The solution is very simple to adapt the paging file pagefile.sys in Windows XP or MS Server 2000 to 2019!
1.) Adjusting the pagefile.sys in Windows!
Using the extended control

1. Keys [Windows + R],

2. command:  sysdm.cpl ,3 , you can quickly adjust the paging file in MS Windows OS!

(... see Image-1 Point 1 to 6) 

A PC restart is then required, the procedure is the same as in Windows 8:






(Image-1) Adjust swap file pagefile.sys in Windows XP?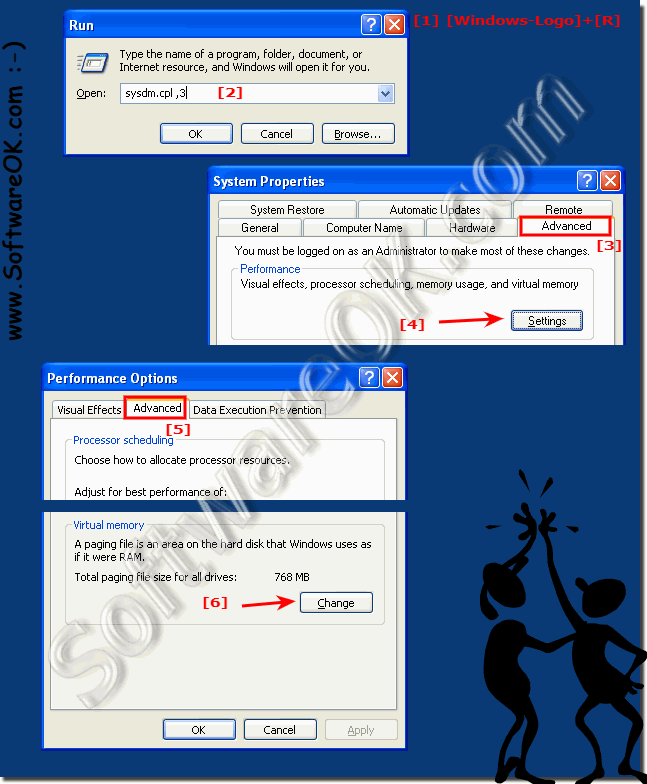 2.) Delete the swap file of the virtual memory when shutting down!

The default setting to clear paging file on shutdown is disabled!

The procedure is identical to that in Windows -7 / 8: 



INFO :

This security setting determines whether the virtual memory paging file is cleared when the system shuts down. 

Virtual memory uses a system paging file to mirror pages of memory to disk when not in use. On a running system, this paging file is only opened by the operating system and is well protected. However, systems configured to allow booting from other operating systems may need to ensure that the system paging file is cleared when the system shuts down. This ensures that sensitive information from process memory that may be written to the paging file does not become available to an unauthorized user who gains direct access to the paging file.

If this policy is enabled, the system paging file will be cleared on shutdown. If you enable this security option, the hibernation file ("hiberfil.sys") is also deleted when hibernation is disabled on a portable computer system.



FAQ 16: Updated on: 21 July 2022 19:41