Listing the fonts on Windows

10/11 is pretty easy to see the fonts!

Info:

If you have not already

downloaded external programs, such as  FontViewOK

, you can easily

view the fonts in the new MS OS

.

As you can see from the screenshot shot in Windows 10 below, it's pretty easy, whether it's a Windows desktop, tablet, Surface Pro / Go, or even a server operating system.



Content / Solution Tips:
1.) The list with the Windows fonts!
Please use the shortcut key [Windows + E] and enter address:
shell:fonts
, or 
%WINDIR%/fonts,
 optionally also 
shell:fonts,
 or
C:\windows\fonts
You can now use all installed fonts see in Windows 10 (
... see Image-1
)
Please use drag and drop, or copy and paste to install the new fonts for Windows 10 / 11, or the [Delete] key to uninstall fonts!
(Image-1) List of all installed fonts under Windows 10 / 11 in Font Folder!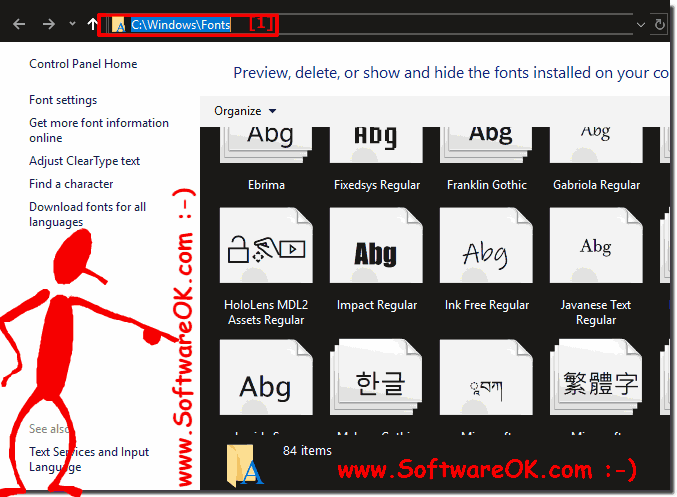 Despite a variety of installed fonts in Windows 11 / 10, some Windows users, especially those involved in design, graphics, advertising, and printing, often require the installation of additional fonts, for example, imported from third-party applications or created for business purposes.

2.) What should I note in the Windows fonts!
Windows 10 has some great new features and is much better than Windows 8.1.
However, Windows 10 displays some fuzzy fonts on high-resolution devices.
Here's a look at the problem and how it can be fixed.


The problem is that with a screen resolution of 1920 × 1080 or higher, DPI scaling is usually set to at least 125% for readability.
Dense packing of pixels on a small screen makes photos and apps look stunning.
However, it also makes desktop programs that are not designed for high resolutions small and hard to recognize.
And because Windows 10 uses a different scaling method for DPI, the problem of fuzzy text occurs.
See: ►►  ... DPI Scaling Fix !
Typing mistakes can be quite annoying.
In terms of typos and Windows 10, many users who use desktop programs have frequently reported problems!