It's easy to
install printers with my own drivers

, for example HP on Windows 11, 10, 8.1, 7, ... Server 2016, 2012, ...!

Start the command

"shell:PrintersFolder"

via Windows and click on

"Add Printer"

 then

"The desired printer ..."

and

"Local Printer"

(

... see Image-1 Point 1 to 6

)

PS: me I stitched the pictures together so that there are not too many and you do not have to scroll 10 meters!

Is an attachment to the FAQ:

... HP Laserjet III, 4, 5, Plus, Driver x64, x32, Windows 10, 8.1, 7

!

(Image-1) Installing a printer with own drivers, Example under Win 10, 8.1, 7!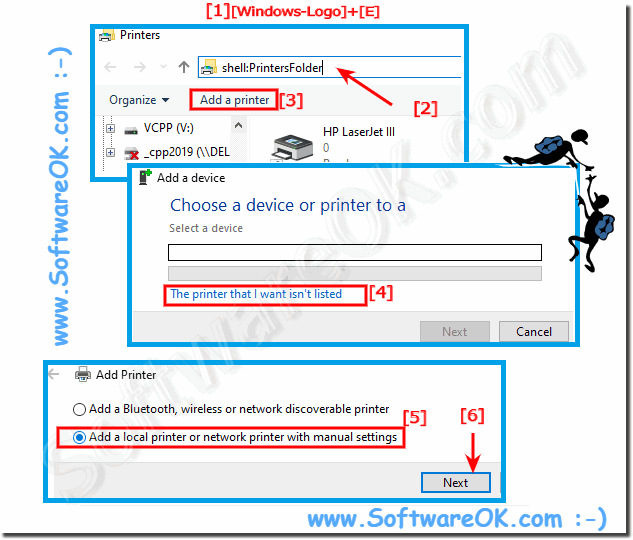 Click on Disk, navigate to the driver folder Here in the example I have the "C: \ HPLJ" folder, select the HP LaserJet 4 Plus printer from the list or another HP Laser!
(Image-2) Installing a printer with own drivers, using HP as an example on Windows 10!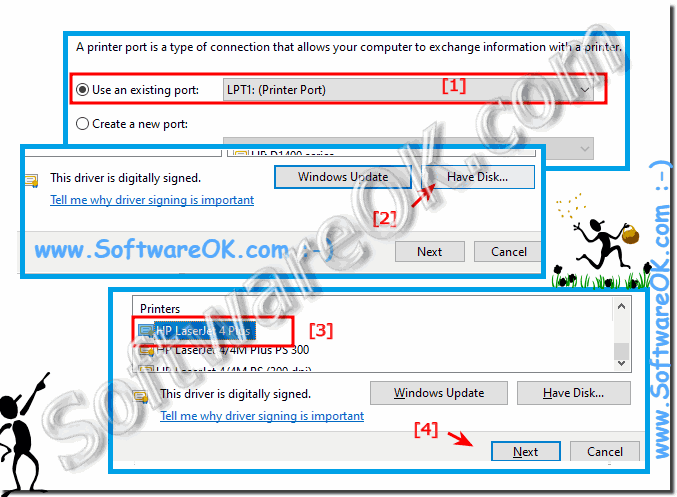 The elegant solution to "Install Printers with Own Drivers" is not just written for
Windows 10
, but you can easily apply this example / solution to older versions of Microsoft's Windows operating systems, whether it's a Windows desktop, tablet , Surface Pro / Go, or even a server operating system, it has been tested at all and successfully verified .
Nevertheless problems with "printer with own drivers install"!
What can I do if I still have problems with "Installing my own drivers"
?
This is a frequently asked question
.
 Restart the Windows operating system, please
perform a proper and correct Windows restart
.