Computer Management is the right tool to handle many administrative tasks under Windows 11!

The range of functions depends on which of the Windows 11 versions you are using, Home, Pro, or even Education. Here are the quickest methods to open Windows 11 Computer Management on Windows 11.


1.) Open the computer management in Windows 11 quickly!
1. Keyboard shortcut Windows + X
2. Open "Disk Management" (Computer Management) in Windows 11
Further options: ►►
Open Windows 10 and 11 Computer Management!
(Image-1) The Computer management in Windows 11!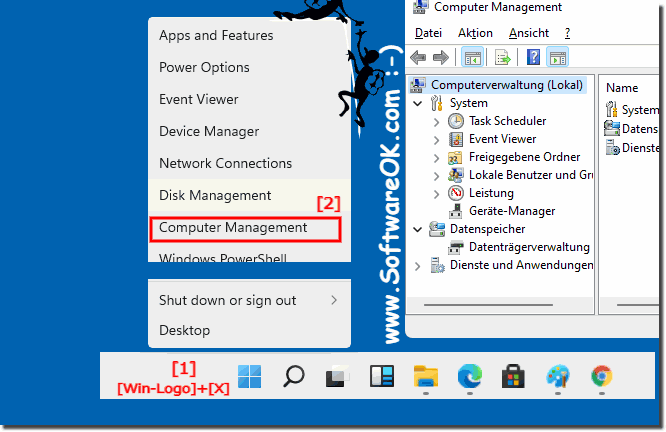 2.) The computer management as a desktop shortcut!
1. Keyboard shortcut
Windows + D
to focus on the desktop
2. Click on a free space on the desktop
3. As always ► 
New
  ► Create
shortcut
4. As target
compmgmt.msc
5. As name for example 
Computer Management
(
... see Image-1 Point 1 o  8
)

Sometimes classic things are very simple, it is no different under Windows 11 with the computer management, with one click you can start it practically from the desktop, why not if it is possible! PS: The full path is: C:\Windows\System32\compmgmt.msc


(Image-2) Desktop Button-Shortcut for Computer management in Windows 11!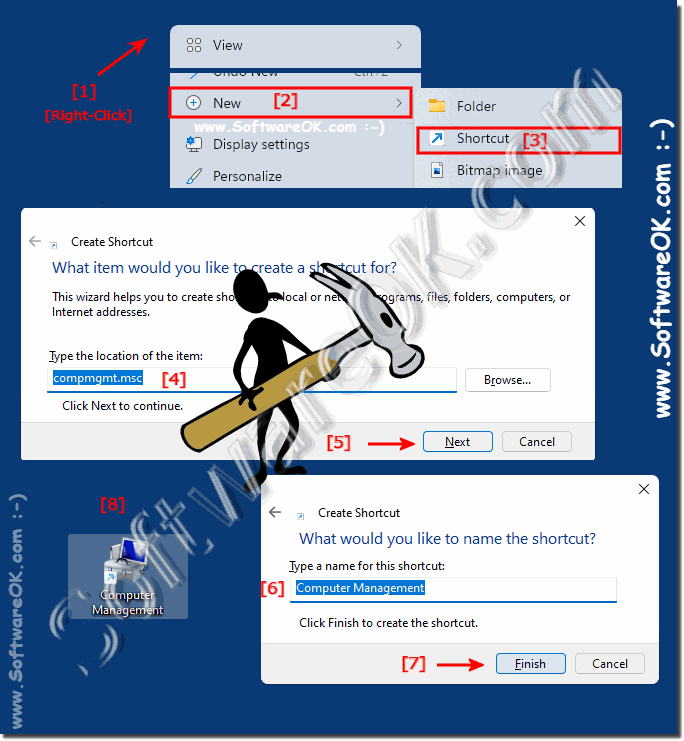 3.) The Computer Management in the start menu or the taskbar for touch screens!
If you have created the ►
Computer Management shortcut on the desktop
1. You can pin it to the Windows 11 start  with a simple
right click of the mouse
2. After you have started Computer Management, you can also pin it to the taskbar with a right click!
(
... see Image-3 Point 1 to 5
)
(Image-3) Computer Management in Windows 11 Start or Taskbar!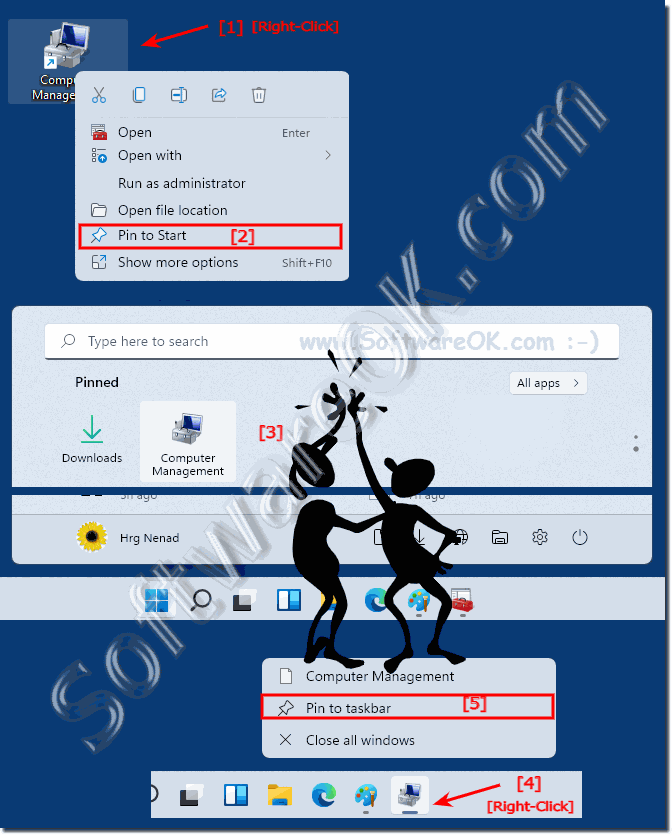 The computer management of Windows 11 is equipped with very useful features. For example, you can use the system configuration or schedule tasks for specific scripts and processes. 

4.) ... More tips on administration and management under MS Windows OS!
Management under Windows 11 is just as important as under all other Microsoft Windows desktop and server operating systems, so it is all the more important to find out about various management functions and the like. Here are more helpful links on this topic!
Just click through the information: