By optimizing the drives, you can also achieve a more efficient execution of the computer under MS Windows 11 OS!

You can also analyze the drives to see if they need optimization. The drives connected to it are displayed on the Windows 11 computer, including external USB and SSD hard drives!


1.) Starting the drive optimization tools directly!

1. Start the drive optimization Windows + R   and  dfrgui.exe
2. And optimize the Windows 11 drives
(
... see Image-1 Point 1 to 5
)
(Image-1) The optimization of the drives under Windows 11!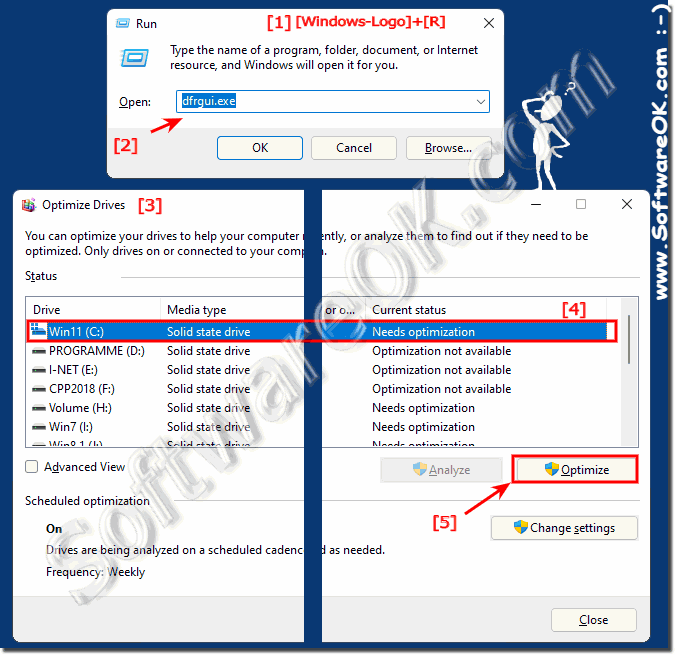 2.) Find the drive optimization in the control panel! 
1. As always start the ► 
control panel in Windows 11
2. Use the F3 key to focus on the search field and use the term
"drives"
3. And open the drives optimization
(
... see Image-2 Point 1 to 4
) 
Info:

The defragmentation can take a long time with very full hard drives up to several hours, the optimization works only under SSD drives and is finished in seconds. Depending on how old the hard disk is and how often data has already been deleted, moved and copied, and how much data is on the hard disk. It can take a bit of a while. Can take a day and more.


(Image-2) Optimization of the drives in Windows 11 Control Panel!