It's just about desktop icons and arrangements from Windows 7 to 10 and 11 !!
It is best to use the
DesktopOK
.exe without the ini file in the working directory
%AppData%/DesktopOK
.
Please note 1:
C: \ user \ * username * \ Documents \ Desktopok is read-only on W10
Please note 2:
W7 and W10 are not identical, W7 is the desktop operating system, and Windows 10 is more like a smartphone based on apps by default, and any desktop user is usually dissatisfied.
(Image-1) Desktop icons and arrangements from Windows 7 to 10!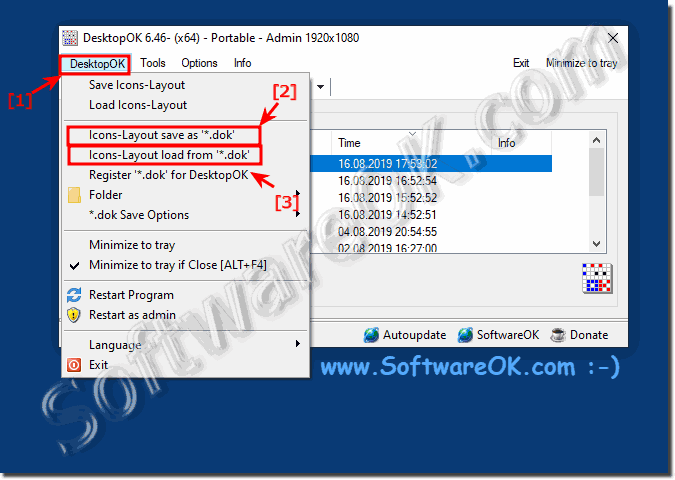 Nevertheless problems with "desktop icons and arrangements".
What can I do if I still have problems with "desktop icons and layouts" is a frequently asked question. 
Restart the Windows operating system, please perform a proper Windows reboot.

The user problem:




Bsp:

I want to call the exe with _p on the network drive and the ini in one
def. Place folder locally.

Example:

I exchange 10 W7 PCs for new W10 Pc2.
Each desktop has different icons and layouts. I call the W7 PC
DesktopOK_P.Exe via a share on the network (my laptop in
Customer network) and the Ini becomes local !!! (W7PC) after
c: \ user \ username \ documents \ desktopok written.
then on the new W10 calculator:
I migrate the user profiles (there is the folder with the ini)
install all necessary programs, place your desktop background
here
and now wants to arrange the symbols exactly as they were on the W7 PC.
So far, I see no way to backup and restore the
path to ini specify.