Auto Hide Desktop Icons is not a joke program, many people, or Windows 11, 10, ... etc. users are happy about this program!




Many users have hundreds of desktop icons on their Windows desktop, and if you have a nice desktop wallpaper, you have virtually nothing. 

Because the

Windows desktop background

is completely flooded with mindset icons, shortcuts.


For this reason, of course, in such a case the program Auto Hide Desktop Icons is indispensable on any Windows operating system.

So download the program Auto-Hide-Desktop-Icons and just try it out. It is absolutely free and very small and the  AutoHideDesktopIcons is a great Winds tool.

► ... Please use the latest version of the Auto Hide Desktop Icons for Windows  




(Image-1) Windows Desktop icons Hide and Show by a Klick!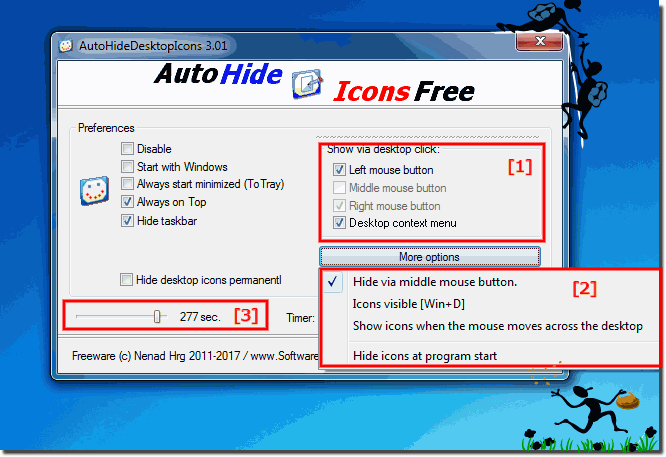 All Windows includes the common This PC, Computer, User Account Folders, Network, Recycle Bin, and the famose Control Panel shortcuts that you can add or remove as icons on your desktop.

This FAQ will explain how you to add or remove the common desktop icons for your personal Windows account on Windows 10.

►► Add or Remove Desktop Icons in Windows 10!





FAQ 3: Updated on: 16 September 2022 15:27