It is easy to avoid the sorting when renaming the files in File Explorer if you simply deactivate it, why not if it is possible in Q-Dir on MS Windows 11, 10, ...!
1.) Deactivating the sorting when renaming files or folders!
1. As always, start
Q-Dir Quad Explorer for MS Windows OS
2. And go to
Tools
 ► List
View
on
Deactivate
3. And activate or deactivate the option:
"Deactivate auto sorting when renaming or copying elements"
(
... see Image-1 Point 1 to 4
)
(Image-1) Deactivate sorting for new objects in File Explorer!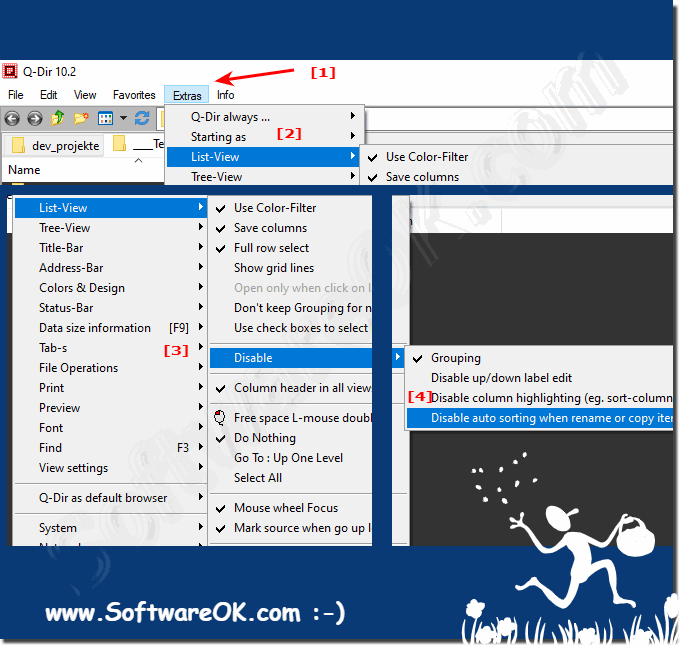 Old Windows systems have this option to turn off automatic folder arrangement, but this feature is discontinued in Windows 10 and other versions of Windows. When we drag and drop a file or folder into a folder, it is automatically and alphabetically arranged. However, if you want to arrange folders arbitrarily or at will, there is a solution for Windows 11, 10, ... etc.
2.) Why and for what purpose deactivate the sorting when renaming?
If you want to turn off the automatic arrangement in folders when renaming files or folders, but don't know how to do it, you don't need to read long-written posts. This is a useful way in Q-Dir to do this job more comfortably without being disturbed by the automatic sorting when renaming. You can try using the Internet solutions with the registry editor, or you can simply rename your files and folders in Q-Dir without considering the various file sorting criteria in File Explorer. 
See also: 
Deactivate sorting for new objects in the File Explorer!
(Image-3) 
Without file sorting when renaming or creating new folders / files!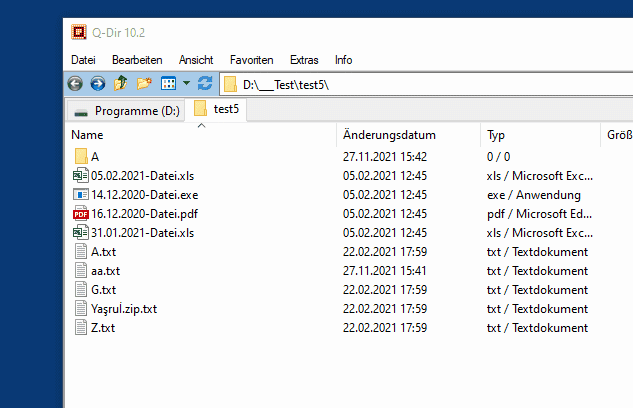 3.) Further useful information regarding file organization on the PC!
If you do not want to arrange your files in the File Explorer after renaming them alphabetically, you cannot always activate or deactivate this with a change in the registry. This change does not always have the desired effect that the automatic arrangement after running around cannot actually be deactivated according to the alphabet or other criteria.