The Admin Explorer is in this deletion program to be able to drag and drop files in administrative mode on Windows 11, 10, ... or MS Server!




The Windows Explorer runs in the standard user account without administrative rights therefore a drag and drop to 

Delete.On.Reboot is

 not possible, for this an administrative explorer is needed even more profoundly is the admin-explorer who has started this with system

privileges

I made developing Quad Explorer !

PS:This is at time a simple File open Dialog in Admin Mode, i work with a Mini Admin Explorer with some useful admin features in combination with Color Console!



   
Content:




1.) The elegant Admin Explorer not just for Windows 10 or 11!
Menu > Tools > Admin Explorer



(Image-1) Admin Explorer in a Windows delete program!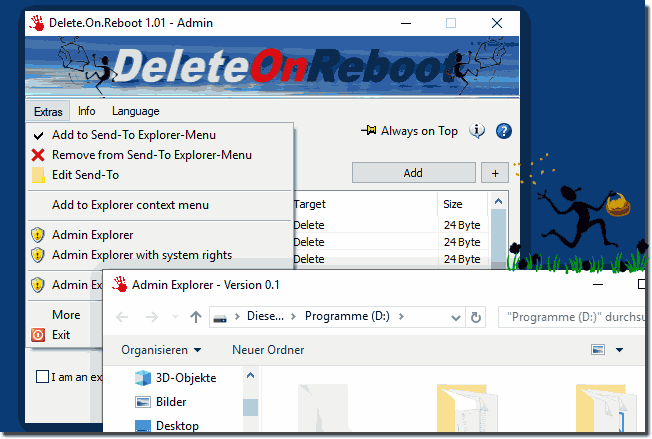 2.) The admin explorer with system rights!
Menu > Tools > Admin Explorer with system rights



(Image-2) System Rights Admin Explorer in Windows!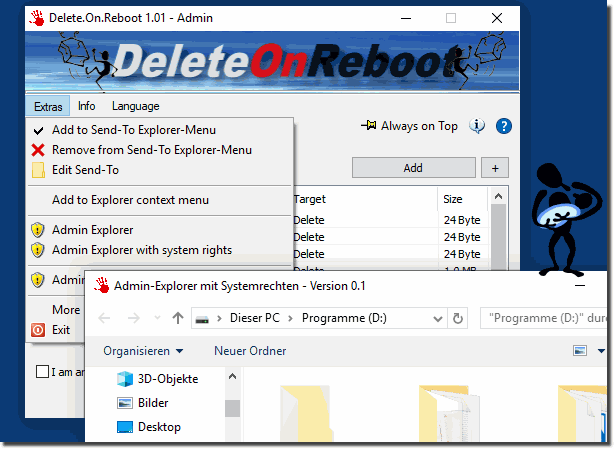 3.) What should I watch out when using Admin Explorer?
ATTENTION!





Use the editing of folders with system rights very carefully!



It is not recommended to work with system rights, because you can also delete things that should not be deleted. Or when creating a new folder, other users or you yourself have no rights to change from the MS Explorer.

Access to system folders should really only be done by administrators who are good and like to deal with it





However, you can easily use this Admin Explorer on previous and older versions of Microsoft's Windows operating systems, regardless of whether you have an Admin Explorer with system privileges or without using a simple Windows desktop PC, on the go, Surface Pro / Go , or even to use a server operating system.







FAQ 3: Updated on: 16 July 2021 13:47