You can turn off the desktop clock very simple the digital display of the month and of the month day and year!




 

Content:



1.) Disable the date display on the desktop clock!




Please start as usual the digital desktop clock as you can see at the bottom of the picture the screenshot has been made under Windows 11, 10, ... etc. but the procedure is also valid for other Windows operating systems, no matter if it is a Windows desktop, tablet, Surface Pro / Go, or even a server operating system.




And deactivate the date display (... see Image-1 Point 1)




(Image-1) Disable the date display in the desktop clock 4 Windows 11, 10, ... etc.!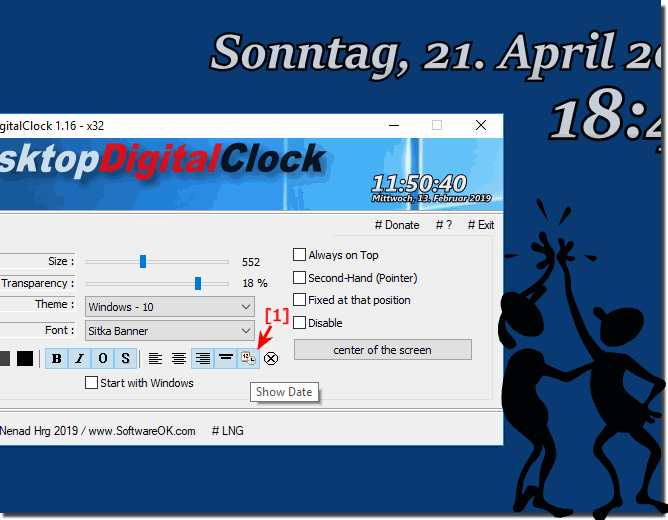 Info:
However, you can easily and safely apply this example to previous and later versions of Microsoft's Windows operating systems. It really makes good sense to have this desktop clock with date display or optionally without the current date appear on the desktop. No matter if in the new MS Windows OS, or on one of the following operating systems: Windows 11, 10 Pro, Enterprise, Home, Windows 8.1, Windows 8, Windows-Server 2019, 2016, 2012, Windows 7 Basic, Professional, Starter, Ultimate it has been tested and successfully 
verified
 at all.
Regardless of the operating system Windows 11, 10, ... or others, there is actually nothing major to note here, except that the date is no longer displayed on the desktop under the clock or above the clock.
2.) What should be considered when turning off the date display?
Of course it depends on the user whether he prefers to work with the date display on the desktop below the clock or above the clock. There are also users, among whom there are of course differences, some can find their way around the current date without looking at the calendar, because they simply have a lot to do with appointments and know exactly the day on which they are located.
However, this is not a problem as you can enable or disable the date on the desktop at any time, you can also completely uninstall the clock and continue working without the desktop clock in Windows.
FAQ 1: Updated on: 11 November 2022 14:03