It is simply the automatic update of the directory expression tools under all Microsoft Windows 11, 10, etc. operating systems!



Content:


1.) Start the auto update and auto update service!
1. Go to the "Autoupdate" button

2. And start the Auto Update conveniently 

(... see Image-1 Point 1 and 2)

PS:
The automatic update of the directory printing tools under Windows is a very popular function and will Often used and appreciated by directory expression friends, regardless of whether it is a current Windows 10 or one of the Microsoft Windows servers, but it is also far too easy to always be up to date with the directory expression software! 



(Image-1) Automatic update of the directory printout under Windows!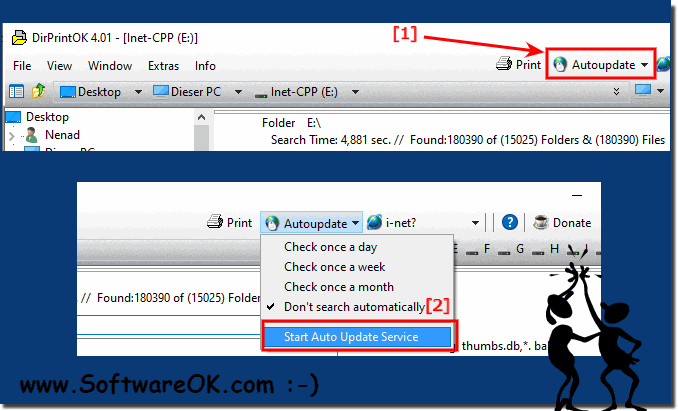 2.) Influence Autoupdate server from DirPrintOK! 

From version 4.04 you can change the auto-update server of the directory printout under Windows!

1. Go to the button "Autoupdate"

2. And select the server from
PS optionally to "Automatic" in order to always use the most suitable update server

( ... see Image-2 point 1 to 3 )

The program searches for each always the best update server by continent, since it is used not only in Germany, but all over the world (currently> 100 countries) to print out the directories under Windows every day. More SoftwareOK servers will be added in the future, so it is not a mistake to leave the Auto-Update Server in the Print Tool for directory under Windows on "Auto" !




(Image-2) Automatic update change ergo select a server!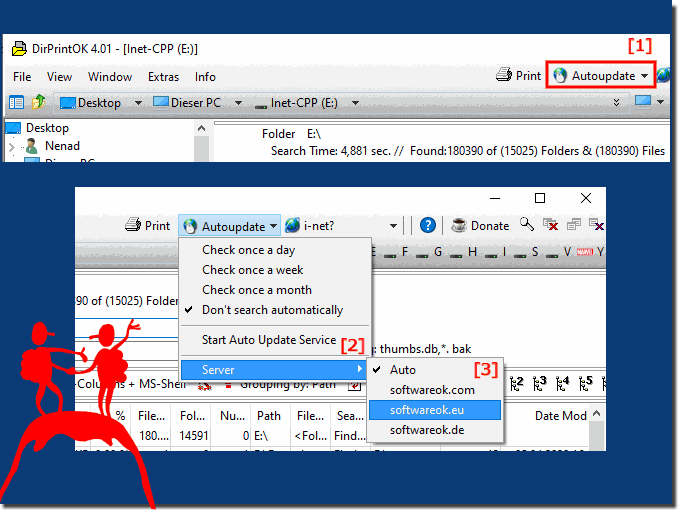 3.) Does this affect my Microsoft Office or Windows 10 auto update?

The Expression Autoupdate directory does not affect the  Microsoft Office 365  Autoupdate in any way, even if you have changed the settings for the Microsoft Office 365 Autoupdate. It is also the case with Office 2016, 2010. And the  MS Windows 10 Auto Update  has nothing to do with this either!

If there are problems with MS Office, please check the  Microsoft Office 365 auto update !





FAQ 17: Updated on: 27 August 2023 12:16