Frequently asked questions, the answer is simple when it comes to the pointer to be used as a kind of extended mouse pointer!



Content:

1.) Which pointer to use!
Many users prefer the crosshair pointer at Powerpoint, but the neon pointers are also very popular, but it is still an independent decision as to what you want to use as an extended mouse pointer!




(Image-1) Which pointer should I use as an extended mouse pointer?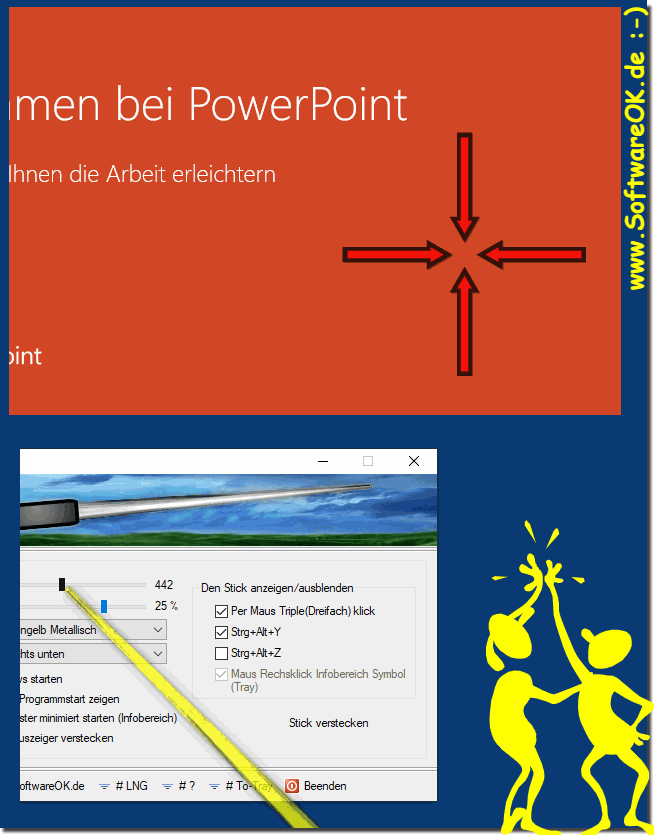 2.) Using the extended mouse pointer Technically and soberly explained!

Choosing an extended mouse pointer depends on your personal preferences and requirements. There are different types of mouse cursors you can use. Here are some common options:

Default Arrow: The default arrow-shaped mouse pointer is the most commonly used option. It is simple and easy to recognize.

Pointer with crosshairs: A mouse pointer with crosshairs can be useful when you need to perform precise actions, such as editing images or playing video games.

Inverted Colors: A mouse cursor with inverted colors can be useful if you have difficulty tracking the mouse cursor on the screen. The inverted colors can increase contrast and make the mouse cursor more visible.

Custom Pointers: You can also use custom mouse pointers to make your desktop more personal. This can include icons, animations or other graphics.

Large pointer: A larger mouse pointer may be useful for people with vision difficulties or for presentations to make the mouse pointer more visible.




Most operating systems, including Windows and macOS, provide the ability to customize the mouse pointer and select different pointer styles. You can make these settings in System Preferences or Control Panel.

Ultimately, you should choose the mouse cursor that best suits your needs and preferences. You can try different options to find which pointer works best for you.


3.) Advantages and disadvantages of using an extended mouse pointer?
There are advantages and disadvantages to using an extended mouse pointer that differs from the standard mouse pointers. Here are some of them:

Benefits:

Better Visibility: An extended mouse pointer can improve the visibility of the mouse pointer on the screen. This is particularly beneficial for people with poor eyesight or in low light environments.

Customizability: By using an advanced mouse pointer, you can customize the pointer to your personal taste and personalize your desktop.

Better traceability: Certain advanced mouse cursors, such as Other features, such as mouse cursors with crosshairs or inverted colors, can improve the traceability of the pointer, which can be beneficial for precise tasks or games.

Thematic design: In some cases, extended mouse cursors can be part of a specific theme or visual aesthetic that fits your personal style or the needs of your work.

Disadvantages:

Distraction: A mouse pointer that is too noticeable or unusually extended can distract from the actual task. In such cases, efficiency may be affected.

Inconsistency: When working on different computers or operating systems, using a custom or advanced mouse pointer may result in inconsistencies because the same customizations are not available everywhere.

Compatibility: Not all applications or software are well prepared for extended mouse cursors and display problems or malfunctions may occur.

A question of taste: Taste varies from person to person, and what is an appealing cursor for one person may be annoying for another. It can be difficult to find an advanced mouse cursor that everyone will like.




Overall, the pros and cons of using an extended mouse pointer depend on your personal preferences and the demands of your work or activities. It's a good idea to try out different options and see which mouse cursor best suits your needs.







FAQ 10: Updated on: 4 November 2023 08:20