From Ver. 5.11 is it easy to quit Don't Sleep automatically, or put the PC on standby when the Battery ?? % has on all MS Windows OS!




Content / Solution / Example:

1.) Activating the battery monitor function on Windows 11, 10, ... etc.!!
In the "Please do not sleep" function and in the "Battery" tab, set the percentage and activate "Use".
(... see Image-1 Point 1 to 3)

Automatic termination, or standby with BATTERY xx percent!


(Image-1) Automatic quit or standby if Battery ?? Percent has!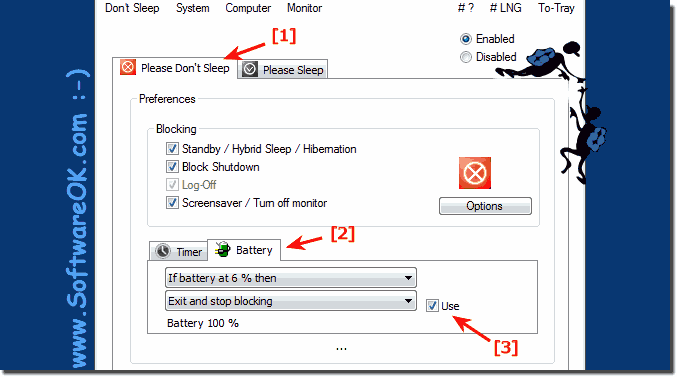 2.) Select what should happen at xx battery percent!

As you can see under Windows shot screenshot, you can easily set whether at certain percent of the battery status of the PC to perform a specific action! 

Eg 
If battery at 7% then: 
► Exit and stop blocking
► Exit and Shutdown
► Exit and aggressive Shutdown
► Exit and Standby/Hibernation
► Disable blocking
► Disable blocking + Stand&by
► Disable blocking + &Hibernate
► Disable blocking + switch to Please Sleep Mode
► Exit and Force Restart
► Exit and Restart
► Exit and Force Logoff
► Exit and Logoff
(Image-2) Automatic shutdown, or standby, at XX Battery-Percent!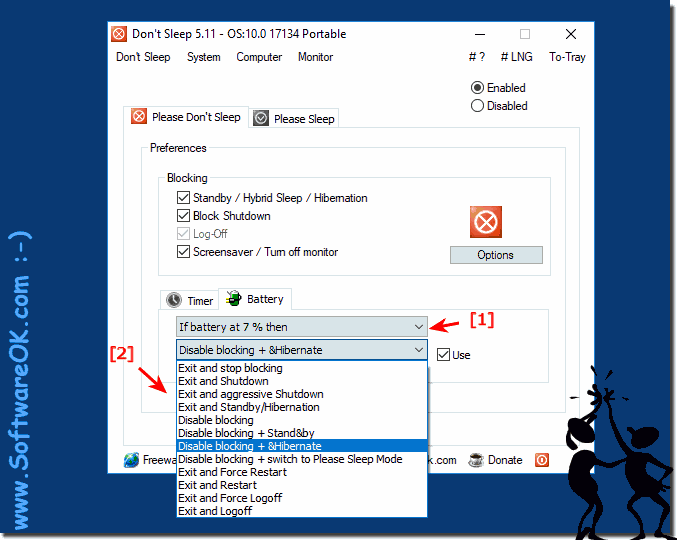 Info:

The example is not written for Windows 10 only if the sample images for battery options have been made at under Windows 10. You can use this example easily and without hesitation also on older versions of MS Windows, or use in Battery operation also independent of whether you at a domestic Windows Notebook / or Laptop, or mobile on the Tablet PC, Surface Pro / Go on.

It is really very useful and advantageous to use this battery function. Although a simple solution, it is still an effective tool to save battery life. And can be  great benefit to increase the battery lifetime.


3.) Created by an user request, who wants to save his battery!

User Question:

Hello Nenad, It would be great if you could include do not sleep for the maintenance of batteries in tablets and notebooks insert a function that stops the app from a battery level of adjustable %. For example, "quit at 7% battery" so you could overnight deflate your notebook battery, without how current the Windows "hard smears" because the battery is empty. That would be really great. So you could let the laptop / tablet idle with Do not sleep and the emergency shutdown responds in time ...

Answer:

So in the "Please do not sleep" function (setting)

User Answer:

Yes, please do not sleep. I think similar to the timer, which counts down a time and then disabled the app.

So could turn off the app even with an adjustable battery% number. For example, you can go to bed while do not sleep drains the battery. For example, 7% turns off the app and the battery can still finish clean Windows, or switch to S2, or S3. So that Windows is not simply strangled when the battery collapses. In the morning you can recharge the battery until it is full. So you could fully charge and fully discharged cycles for the batteries with Do not Sleep make it totally easy, without creating your own Power-Plan-Modes. So this can also be someone who has no idea about IT, but wants to maintain his battery.

I privately use do not sleep for a very long time. And think the app really great. Otherwise I would not have written to you how to do something better. Keep it up. And thank you.



FAQ 16: Updated on: 12 September 2023 06:09