It's very easy to create own desktop background slideshow in Windows 10, with own images ergo pictures!




Content / Tips / Solutions:


See also: ► Disable animations in the Windows 10 Taskbar ► auto startup folder in Windows 10, Where is it?

1.) Create a new Folder for own Pictures!
For example run MS-Explorer via keyboard shortcut Windows-Logo+E and enter in Address Bar 

shell:My Pictures

and create a New-Folder in this example Images1. And put your own pictures in this folder.

(... see Image-1 Arrow 1 to 5)



(Image-1) New Folder for Desktop background slide show in Windows-10!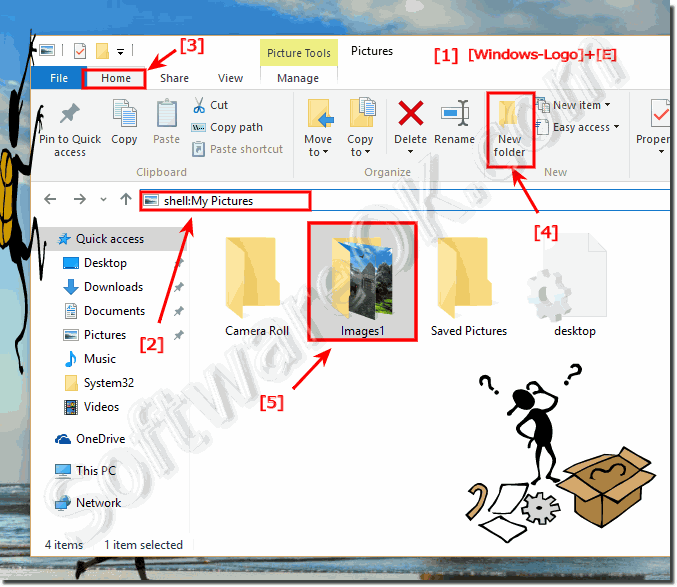 2.) Use your own pictures for Windows-10 Wallpaper!

Please open the Wallpaper settings, for example: Windows-Logo+R Keyboard Shortcut (Run Dialog) and the command:


control.exe /name Microsoft.Personalization /page pageWallpaper



Now click the button Browse. And select the folder with your own images eg. pictures.

And don't forget to Save Changes (... see Image-2 Arrow 1 to 4)

Info: To create in Windows 10 a slide show of pictures for the Windows-10 desktop, you must select more than one picture. If only one picture is selected, the slide show ends and the selected picture becomes the Windows 10 desktop background.

Read this for: Windows 10 + Creators Update



(Image-2) Own desktop background slide show for Windows-10!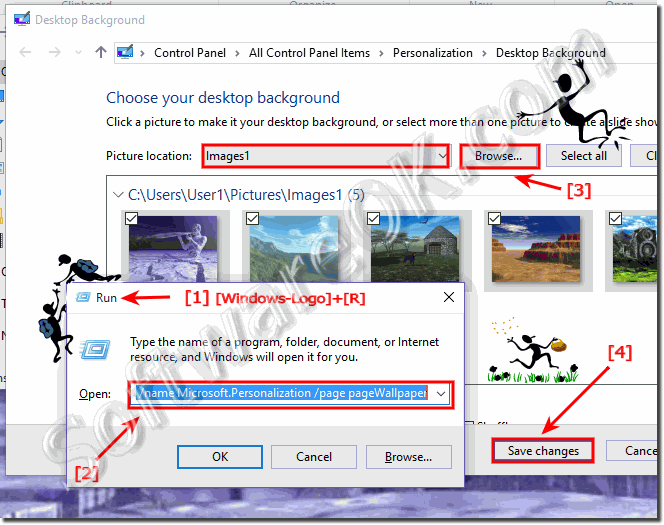 If the pictures that you want to use aren't in the list of Windows-10 desktop background pictures, click the Picture location list to view other categories, or click Browse to search your Windows-10 computer for the folder where the pictures are located.

See also: find the Windows 10 version and build number || Create desktop shortcut in Windows 10 for a program 


3.) Own images for Windows-10 Wallpaper (Windows 10 + Creators Update)!
TAP or Click: Window Logo ► Settings  Personalize ► Background

Select Slideshow and Browse for you own Picture folder!



Or for example: Windows-Logo+R Keyboard Shortcut (Run Dialog) and the command:


control.exe /name Microsoft.Personalization /page pageWallpaper

 

......


(Image-3) Own pictures slideshow on Windows 10 with Creators Update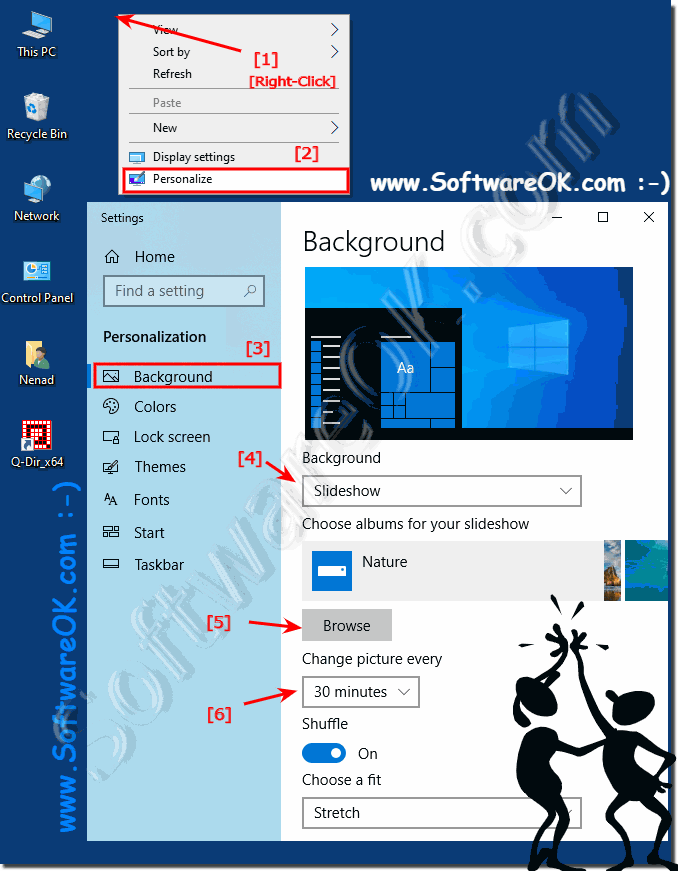 FAQ 144: Updated on: 29 May 2019 17:43