You can easily compare two separate folders even if one of the folders is the SYSTEM fonts folder, whether on Windows 11, 10, etc. Desktop and Server OS!
Content:
1.) Compare fonts in two separate folders!
1. Just start
Font-View-OK
 twice.
2. Select the respective folder in each one!
3. And you can already compare the folders ;-)
Or !? 
(Image-1) Compare two separate folders One is the SYSTEM font folder?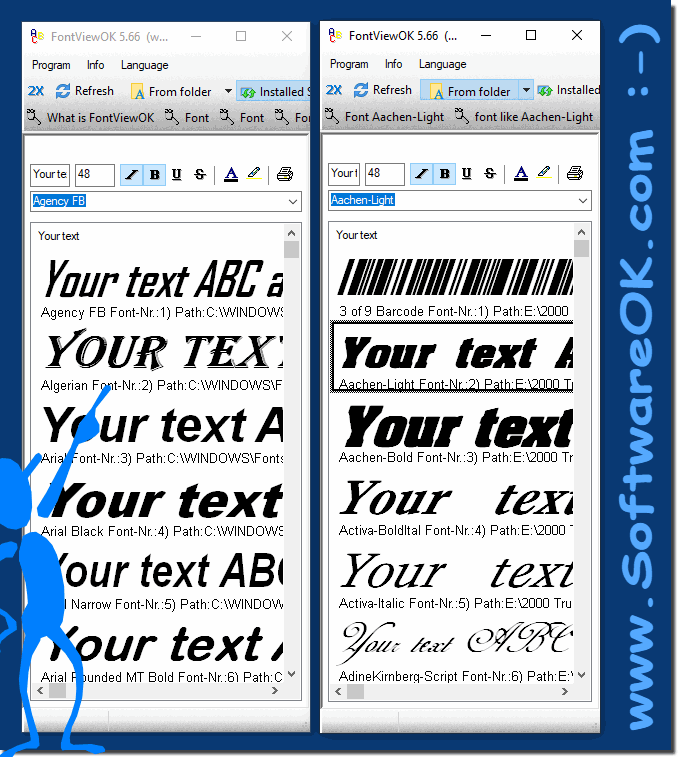 In order not to overload your font library unnecessarily and to lose track of existing fonts, the free font tool offers a function for finding duplicate fonts, i.e. duplicates. It does not matter what the file name of the font is called. Here the name of the font is used for the comparison.

2.) Font comparison on Windows 11!

Windows 11 has a fantastic new adjustment for the window positions that you can take advantage of, even with the font comparisons you shouldn't miss out on such advantages.





FAQ 8: Updated on: 29 August 2023 09:41