Integrated graphics processors relieve the main CPU of the graphics task representation!





A permanently integrated graphics processor normally uses the computer's main memory (CPU) because, unlike dedicated graphics cards, it usually does not have its own memory. However, it offers a more economical, cost-saving alternative to the standalone graphics card known as dedicated graphics cards.




Content:


1.) The integrated graphics processors!

Since integrated graphics processors are now earlier on the motherboard, they are integrated in the CPU! Their size is limited and they can be used for cooling without a special fan, as is the case with some graphics cards. For this reason, they typically do not have the same performance as graphics cards that may have been connected to the PCI / PCIe or earlier AGP slots on the computer. Because integrated graphics processors cannot be removed, they cannot be updated like graphics cards. Due to their small size, integrated graphics processors are a good solution for entry-level laptops and desktop PCs.


 

The integrated graphics processor transition from motherboard to CPU begins in 2009, as Intel launches a number of chips that integrate graphics into the CPU package, but on a separate chip, with both IGP and "chip". connected by a high-speed connection. Known under the code name Clarkdale, these CPUs had dual-core CPU processing associated with basic graphics. AMD will also bring the CPU and integrated graphics processors together, and the first chips were on the market in 2010.

(Image-1) A CPU integrated graphics processor ergo GPU!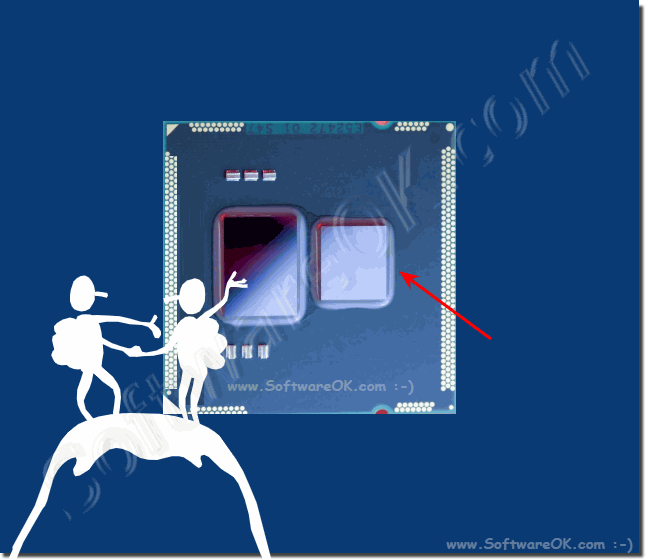 3.) The main difference between integrated graphics and graphics!

A CPU integrated graphics processor , also called an iGPU (Integrated Graphics Processing Unit), is a type of graphics processor integrated into the central processing unit (CPU) of a computer. In contrast to dedicated graphics cards, which are installed as separate expansion cards, the iGPU is a component of the CPU itself. This means that the CPU and iGPU are housed on the same chip or in the same CPU package.

The main function of an iGPU is to enable graphics display and processing of 2D and basic 3D graphics on a computer. This is enough for everyday tasks like surfing the web, watching videos, working with Office applications, and other tasks that aren't particularly graphics-intensive. Since the iGPU is integrated into the CPU, it saves space and energy, which is particularly advantageous for compact laptops and ultrabooks.

Dedicated graphics cards with discrete GPUs are typically more powerful and better suited for demanding 3D gaming, video editing, and other graphics-intensive applications. In many computers, especially desktop PCs, both an iGPU and a dedicated GPU are present, and the user can switch between them or use them in parallel depending on their needs.




The performance of an iGPU varies depending on the manufacturer and CPU model, but it is best suited for basic tasks and provides enough graphics performance for most everyday needs. For performance-hungry applications, dedicated graphics cards are usually the better choice.





FAQ 144: Updated on: 26 October 2023 15:07