An EXE file is marked with the file extension .exe, so the operating system knows (eg Windows-10, 8.1, ... MS Server) that it is an executable file.


However, there are several programs and services that use this extension. As a rule, or most commonly, the EXE files are programs, formerly MS-DOS, now for Microsoft Windows.

To see the file extension, you have to activate file extensions in Windows, otherwise you can not see the EXE file extension. When you change a file extension from the EXE file, Windows does not recognize it as an executable file or program. If you click on the file or press Enter, it will not start.

Windows simply treats you as an unknown file and asks what action should be taken

Amongst others executable files under Windows are com, exe, bat, cmd, msc, hta (HTML application), pif (often used by computer viruses), scf, scr (screensaver), etc ....



(Image-1) Rename EXE to exe2 file?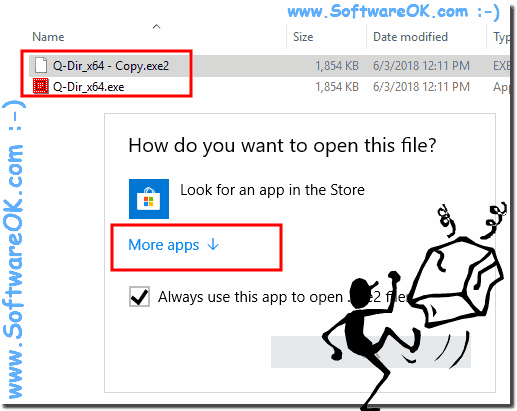 FAQ 48: Updated on: 15 September 2020 06:07