There are various reasons to enable or disable Windows Firewall whether on Windows 11, 10, ... Desktop or MS Server operating system!
1.) Disabling the MS Windows Firewall!
 1. Use the shortcut Windows + R and command 

firewall.cpl



2. And simply click on "Turn Windows Defender Firewall on or off"

3. And activate or deactivate 

( ... see Image-1 Point 1 to 4 ) 




(Image-2) Enable or Disable Microsoft Windows Firewall!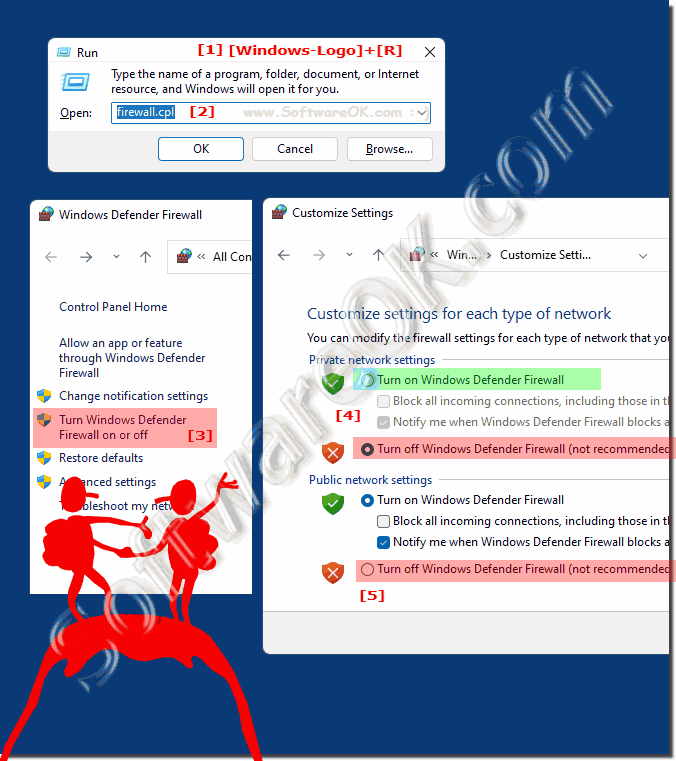 2.) Windows Firewall and the dangers of deactivation!
Many MS Windows users are interested in enabling or disabling their Windows Firewall for various reasons. It is beneficial if Windows Firewall is not disabled unless you are troubleshooting an important Windows problem or plan to install another third -party firewall.

In short, a software firewall should be activated for security reasons. For example, if you install an antivirus or other security application, which sometimes has its own firewall, make sure they are disabled or enabled. Follow the manual of the respective antivirus program.


3.) More tips on Windows Firewall and security ... etc.!
Windows Firewall is an important part of security on all Windows systems, and should not be treated as an unnecessary program!





Windows Firewall is an important part of the security infrastructure of Windows operating systems. Here are some additional tips about Windows Firewall and general security practices:

Update your operating system regularly:
Make sure your Windows operating system and firewall are up to date. Microsoft regularly releases updates and security patches.

Enable Windows Firewall: Make sure Windows Firewall is enabled. By default it is usually enabled, but it is recommended to check.

Configure the firewall rules: Customize
the firewall rules to suit your needs. You can block or allow specific applications by adding or editing rules. To do this, go to Control Panel > Windows Defender Firewall > Advanced Settings.

Use network profiles:
Windows Firewall can have different profiles (e.g. home network, work network or public network). Make sure you set the correct profiles for your network connection to optimize security.

Monitor event logs:
Monitor Windows Firewall event logs to identify potential security incidents. You can track suspicious activity and take appropriate action.

Block outgoing connections:
Typically, Windows Firewall blocks incoming connections by default. However, you can also block outgoing connections to gain control over applications that are allowed to access the Internet.

Back up your data:Back up your important data regularly to ensure you can restore it in the event of a security incident or data corruption.

Remember that security is an ongoing process. It is important to continually monitor and adapt these practices to keep up with ever-changing threats.



 



FAQ 21: Updated on: 30 September 2023 09:52