Log in to Windows Live ID or register Example, useful to use MS's free Online Office!



Content:




# Registration for a Windows Live ID!

Registering for a Windows Live ID is very easy and accessible to everyone! In four steps you can be logged into Windows Live ID very quickly!

Step 1.
Call up the address https://signup.live.com/signup? In the browser (Internet Explorer) of your choice .  on

Step 2.
Then just click on Register (also Image-1). If you have a Windows Live ID, you can log in directly with your email address (Windows Live ID) and your password.

Step 3.
Then the selection of the e-mail address comes: Create your own or a new e-mail

Step 4.
On the next page you only have to enter your "Create login information" password, email address, .....



(Image-3) Sign up for or register for a Windows Live ID!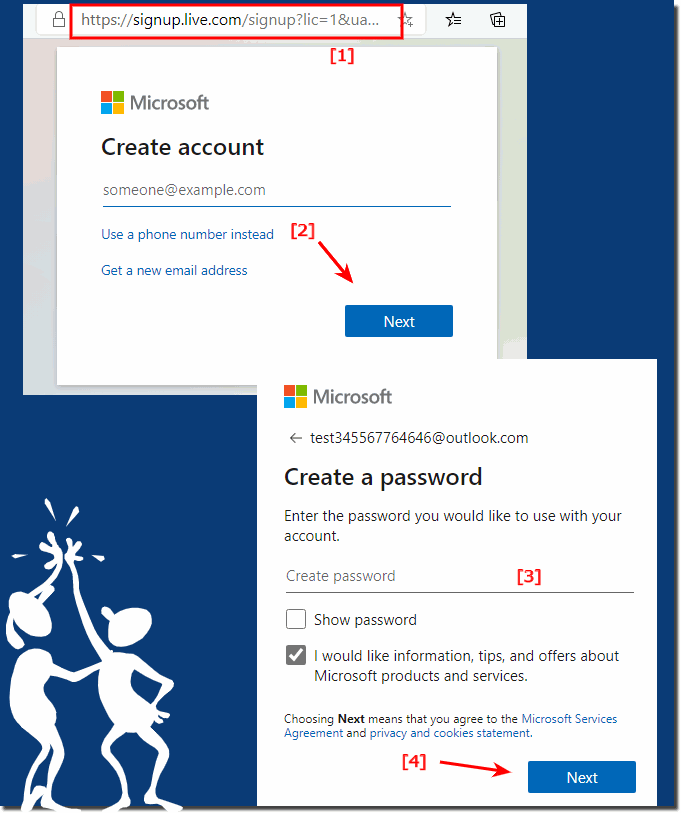 ... Register Windows Live ID
Login with a Windows Live ID:
... Windows Live ID Login Login

/ Register to test the "Office Professional 2010 Trial" trial versions :
... Test Microsoft Office 2010

# Is registering for a Windows Live ID free or does it require a fee?
There are no costs for registration or registration. However, costs can arise from ordering MS products that you place using the "Windows Live ID".

# What if I don't have my own email address to register my Windows Live ID?
Even if you don't have an email address, you can get a free MSN Hotmail email address when you sign up. If you have your own email address, you can use that address to sign in to Windows Live ID sites.

# Why do I need a Windows Live ID?

In order to be able to download MS products such as Office, Outlook, ... you also need the "Windows Live ID" in order to be able to download test versions (Trials) of MS products, or to edit Office documents on the Internet and to be able to save, etc. ... After logging in, you will see your personal "Windows Live SkyDrive" in your "Windows Live"!
Internal links:
... Office 2010 Direct download links plus trial versions!

External links:
... Edit and save office documents on the Internet and cloud computing!


Some of the websites recognize your Windows Live ID, such as Hotmail, MSN, Xbox Live, Windows Live Spaces, Windows Live OneCare, and Zune. You can also use your Windows Live ID on some third-party websites, such as Expedia.com. In addition, you can use all live services with your "Windows Live ID", such as "Windows Live Messenger" and "Windows Live Mail", as well as any other live service.

Windows Live ID and Windows Live Services are web-based software services that can help you run your small business more effectively or communicate with customers. It enables you to continue working on your documents and projects even when you are not in your office but at home. For example, if you use Windows Live Mail, you can access Windows Live Mail from any computer at any time. The same goes for other live services.

FAQ 36: Updated on: 26 November 2020 08:53