The directory Expression in My Place is possible before the 5.XX there were problems, please use the latest version! 




Just under Windows 10, there were problems in the print preview to print out the overview of the used hard disk space, please wait until the analysis / scan of the hard disk or directory is completed and then call / start the folder print function!


Content / Example:


See also: ►  Open a second drive in the new window?


1.) Example: the scan of the hard disk C: on Windows 10!
Here is a small example of the scan on the C drive: and starting the directory print function via the main menu in 
MeinPlatz
!
PS: 
Works well under Windows 8.1 and Seven and on all Microsoft Windows Server operating systems 2016 to 2000!
(Image-1) Directory print example on Win 10!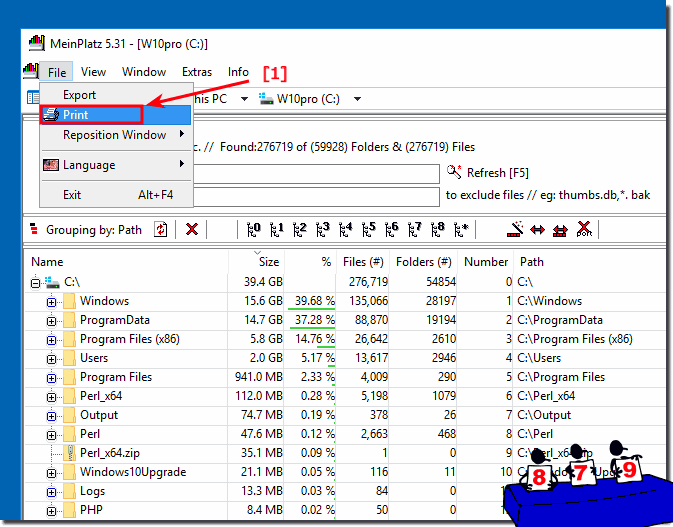 2.) The clear printout of the Windows drive C:\!
(Image-2) Directory print Windows system drive!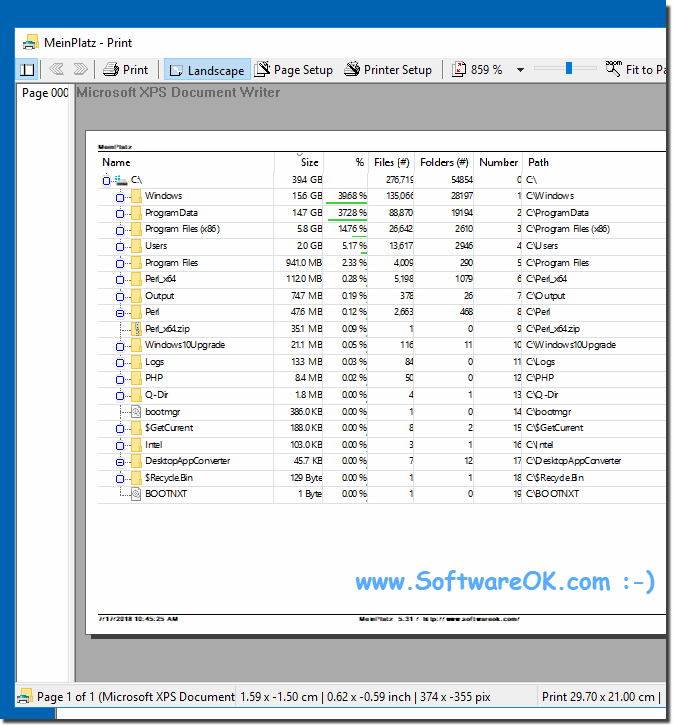 As you can see above in Windows 10 shot screenshot, the file list, folder contents, directory, directory tree, printout with this Windows tool is no longer a problem, you can
use this directory printing tool
and without further consideration even on older versions of Microsoft's Windows operating systems to print file lists , the print does not matter if it's a Windows desktop on the home computer, or if you're printing on your tablet PC, MS Surface Pro and Go, or even a professional business server Operating system or in a nonprofit organization and authority.
It really is very beneficial to have the file list clearly laid out on paper, it is a simple yet effective directory-expressing tool that has been tested and successfully 
verified
 on various MS OS.
3.) Loadg and save the column layout in tree-list!
(Image-3) Easy Load and Save the Columns Layout!


FAQ 8: Updated on: 22 July 2021 18:56