When using Remote Desktop Connection, known as Microsoft Remote Desktop, it's easy to save a setting in a single file for that remote location and preference!



If you allow remote desktop connections to your PC, you can use another device to connect to your PC and get access to all your programs, files, and network resources as if you were sitting right at your desk.

But I'm not telling anything new here, if you use it often, especially on different computers it makes sense to save the settings.






1.) Start the Windows remote desktop connection!
Remote Desktop Connection path is %windir%\system32\mstsc.exe

1. Please start Remote Desktop Connection. Windows + R

2. Command  mstsc.exe , click Show Options 




(Image-1) Save remote desktop RDP file on Windows OS!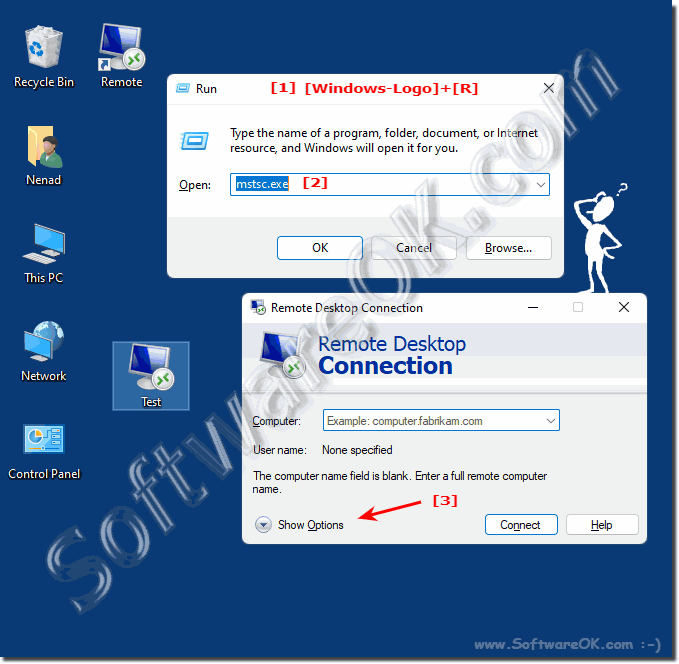 2.) Adjust remote desktop settings!
Set the options for the remote desktop connection ( ... see Image-2 Point 1 )

General
Computer name, user name, ...
Display
Select the size of the remote desktop. Drag the slider all the way to the right to use full screen mode.
Local Resources
Select the devices and resources to use in the remote session. Printers, clipboards, hard disks, ...
Advanced
Select transfer rate to optimize performance. (Desktop Background, Font Smoothing, Desktop Themes, Visual Styles, ...)
Performance
Server authentication ensures that you are connecting to the correct remote computer. The level of verification required to establish a connection is determined by the system security policy. Configure the settings to connect through Remote Desktop Gateway when working remotely.

When you have made the appropriate settings, go back to the  General tab,  simply click on the "Save as..."   button.

(... see Image-2 Point 1 to 4) 



(Image-2) Remote Desktop Connection Save in a RDP file on Windows OS?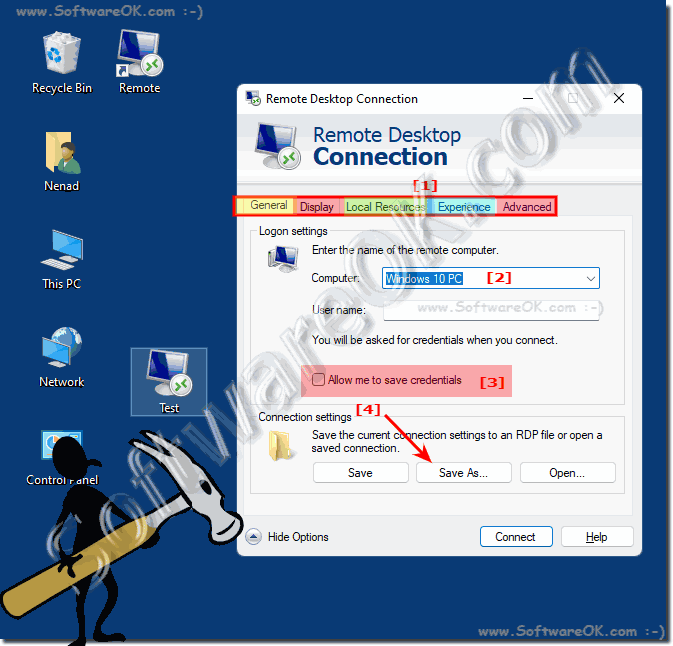 In Windows you can save the settings of a selected remote desktop connection as a backup on an RDP. You can then open the saved RDP file if needed to quickly connect to the computer remotely using the same settings since the RDP file was saved. 



3.) Save remote desktop connection settings!
Assign a meaningful name and save it directly on the desktop, for example. 


(... see Image-1 Point 1 to 3)




(Image-3) Save Remote Desktop Connection as RDP file!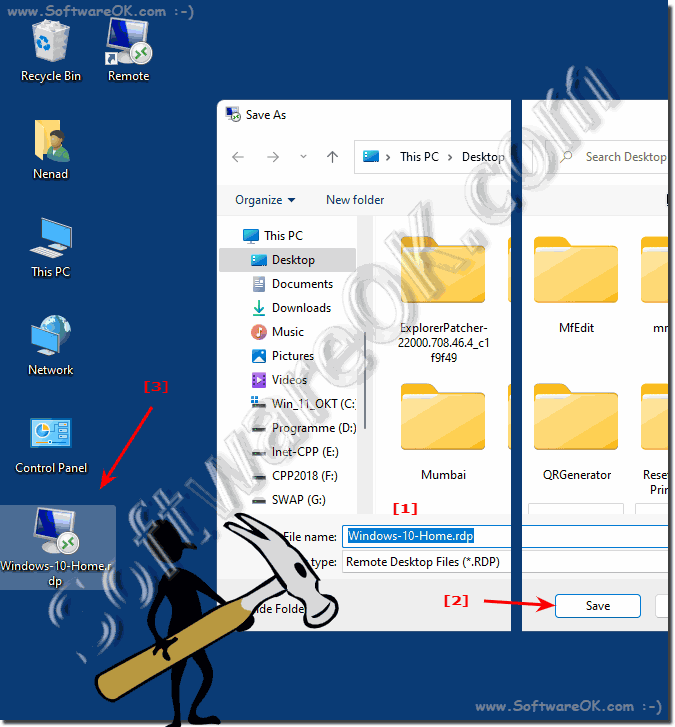 4.) More helpful information about the remote desktop connection!




This example explains how to save the settings of a specific remote desktop connection in order to quickly open it later from a *.rdp file. You can use this under all Microsoft Windows Operating Systems very practical because it can be used anywhere under Microsoft Windows!

FAQ 110: Updated on: 13 September 2023 07:11