The solution is simple with NewFileTime to make time stamp corrections for files and folders for example for summer time and winter time in Europe!




 

Content:


This Solution is for Windows 11, 10, 7, 8, 8.1, XP and all others Windows Operating Systems. Unfortunately there are always problems here because the computers were not designed for this by default, when interpreting the time it can lead to misinterpretations in the respective operating system!


1.) The summer time and winter time problem, the solution! 
To change the file time and/or the time stamp of the folder, E.g. to make an hour older!

In NewFileTime, click "be older", then choose "1 hour" (... see Image-1 Arrow-1)

Or each file and folder 1 hour younger :-)  (... see Image-2 Arrow-2)

Set the new  time stamp via button click Set-Time (... see Image-2 Arrow-4)

If you want to make an hour younger, just click on "Be younger" (... see Image-2 Arrow-1)

See also: Bug with time zones / summer time!



(Image-1) files and folders Time stamp corrections for one hour!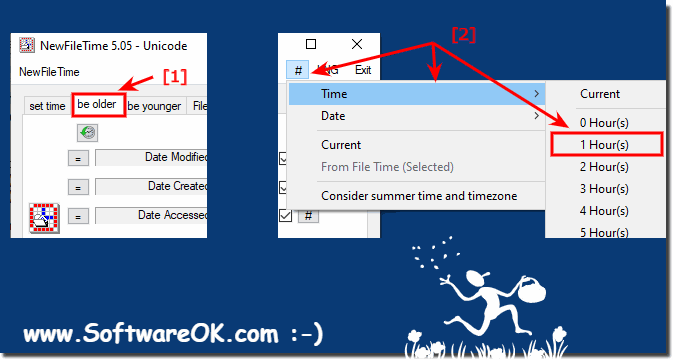 (Image-2) Summer and winter file time stamp correction!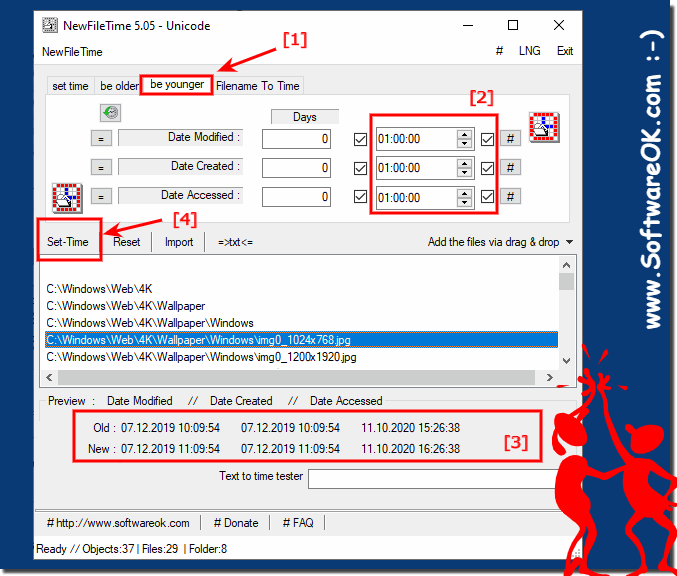 2.) Information about the problem with the file times in summer and winter time!



Problems can always arise with the file times, regardless of whether they are recorded images, documents under NTFS or FAT, i.e. in summer and winter time interpretation if the files were created in winter time and, for example, are changed in winter time especially if there are external data carriers, i.e. if the analysis of certain files in relation to the file date is carried out on different devices. 

 

As a rule, you have fewer problems with FAT32, since the local time is the reference there, with NTFS it is the UTC time! You can see that facts arise here which lead to problems when recognizing and interpreting the current summer and winter time and sometimes cannot be solved!

 


See also:




 



FAQ 5: Updated on: 4 December 2021 12:22