If the watermark is difficult to see in the photo, change the color or the transparency of the watermark!


1. Please start the image reduction tool for MS Windows OS as always 

2. It is best to switch to

512 x 512

thumbnails to see the watermark better 

3. Select the

"Watermark"

tab (point 2)

4. Change the color of the watermark (point 3)

5. Change the transparency of the watermark (point 4)

(... see Image-1 Point 1 to 5)

PS don't forget to activate the option

"Use watermark"



Adding the text watermark to the photo is easy and Unicode characters are supported. You can also change the font, color, transparency, and placement of the stamp. It should be noted that you can also see the watermark live on the images if you set the image to thumbnail in the preview window.



(Image-1) The watermark on the photo is difficult to see?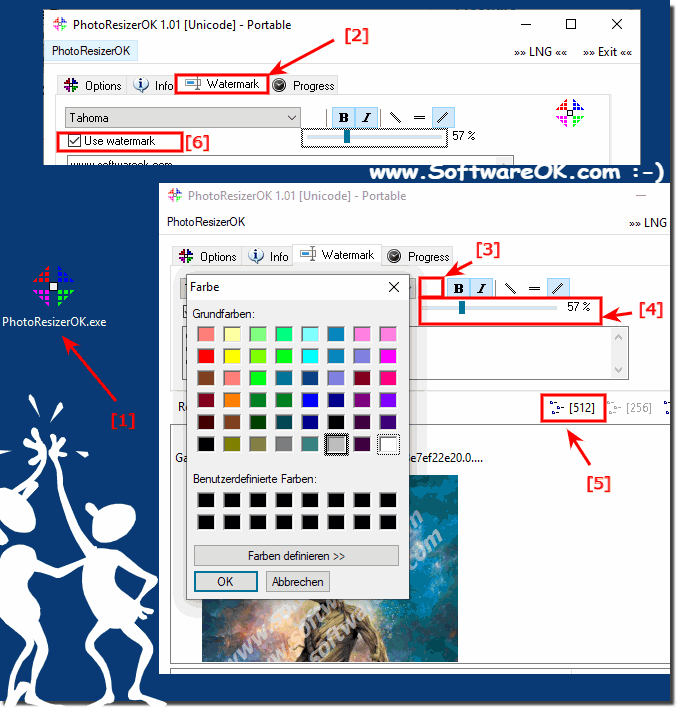 The watermark on the photo for: Windows 11, 10 , 8.1, 8, 7: Pro, Home, Enterprise, Basic, Premium, Professional, Starter, Ultimate, Windows-Server 2019, 2016, 2012


FAQ 3: Updated on: 12 July 2021 20:17