The solution to convert a JPEG file to a PDF file is possible in this scan to PDF tool and easy under Windows 11, 10, ... and on MS Server!
There are many free tools to print PDFs to indirectly print the pictures in such a virtual printer program as PDF the picture file, mostly the picture format is wrong and the tool has to be installed, who has no admin rights can do it do not use, so you are looking for the JPG file to PDF file solution that can do so properly, so that the image is saved as a PDF and can also convert several JPGs to PDF and that  remains without installation! The
freeware
is good for personal data protection!
1.) The best solution to save JPEG or PNG as PDF
1. Start the
WinScan2PDF
change to
Multiple Pages
Scan. 
2.
Drag one or more images into the list view of Scan To PDF Tool for  Windows
For example from Windows Screenshot-Folder 
%UserProfile%\Pictures\Screenshots
(
... see Image-1 Point 1 to 3
)
See also: 
Take a screenshot in Windows 8.1 / 10 and save it automatically as a file!

(Image-1) Create a PDF from multiple Screenshot or other Images!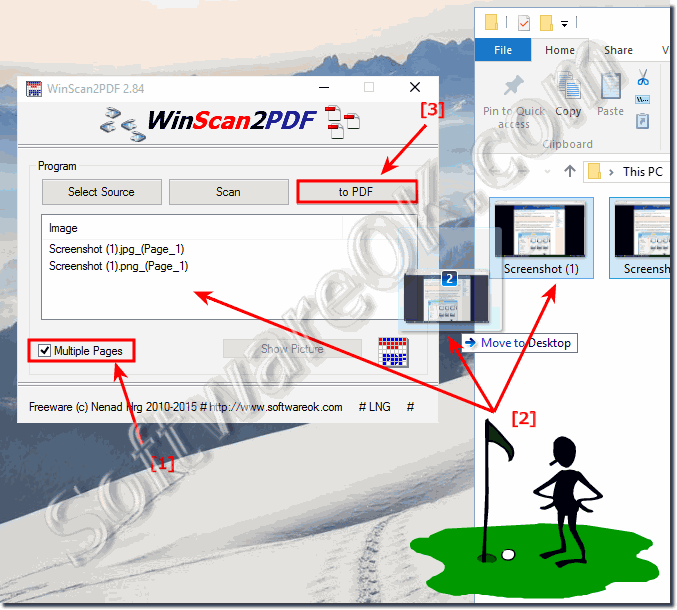 Tip:
Saving JPG / JPEG and PNG files as PDF: This is how it works with Windows 10. As an alternative to the instructions below, you can simply change the file extension of the photo. Find the JPG file you want and right-click on it. Under "Open with" select the Windows software "Paint". Click File in the upper left corner of Paint and choose Save As. Change the extension ".jpg" to ".pdf" for "file name". If there is only the name, just add the end ".pdf" (see picture). A PDF version is created from the image using the "Save" button. The original JPG file is retained. 

Under W10 you can use the internal PDF printer driver!

2.) What is the advantage of this picture to PDF solution?
The images are correctly entered into the PDF file!
Everyone knows the worst solution under Windows that does not work well via PDF printing, which is still good as an alternative that can be used. It is even worse to convert his images on a website online in terms of data protection into PDF files, especially on non-German sites, so with this tool you can avoid both of these risks and with this tool it is easy to use one or more JPG Save files as PDF files and also ►►► 
sort them in the  page order
3.) Are JPEG, PNG, TIFF, BMP to PDF also supported?
Everyone wants to convert different image formats to PDF. All formats are covered and saved as PDF and professional RAW formats, such as cameras from Cannon, can be converted to PDF. What is very popular with photographers to send a summary of the images in a lower resolution
4.) What should I consider when converting images to PDF?
In the tool menu, set "PDF Page Size" to "As Scanned Page" in order to adapt the PDF pages to the image format and not vice versa, unless requested!
(
... see Image-2 Point 1 to 5
)
(Image-2) Images to PDF with the correct image format or resolution!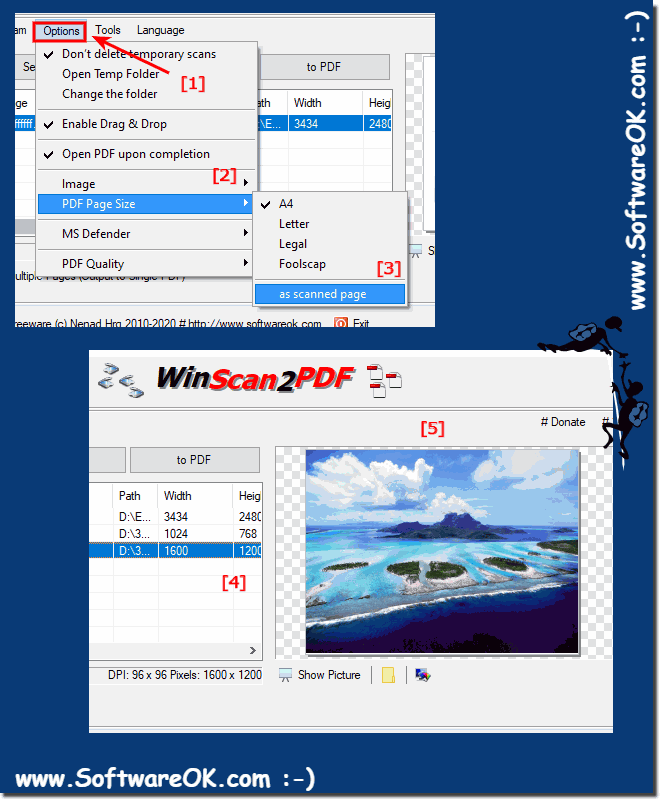 5.) Are there problems with the image to PDF conversion?
No, it works fine! If not, just contact us in the program menu!
Now simply convert your JPG, PNG, TIFF images, .... into PDF format to catalog them and share them with other users. This free software can automatically rotate, optimize and reduce images while maintaining the original resolution. Click to convert up to over 1000 images. Wait for the conversion process to finish. 
6.) Can I also use it in the office, i.e. commercially?
Advertising agencies and photographers in particular are asking this question! Yes, it can also be used in the office, i.e. absolutely legal commercial use, without worrying about licenses and costs.If you like it, a donation can optionally be made, but this is not an obligation, the program will never ask you to do so to do. Likewise, you will not be bothered by other advertising banners, which is the case with many tools that are not
freeware
but adware software!