The solution to convert a Jpeg file to PDF file is in WinScan2PDF possible, and easy on Windows 10, ... and for MS Server!
The Best solution to save the Jpeg in or PNG to PDF
1. Please start
WinScan2PDF
switch to
Multiple Pages
Scan, 
2. Please
drag the one or multiple Images to the List-View in WinScan2PDF
!
For example from Windows Screenshotfolrer 
%UserProfile%\Pictures\Screenshots
!
(
... see Image-1 Arrow 1 to 3
)
See also: 
Create a screenshot in Windows 8.1 / 10 and auto-save it as a file!

(Image-1) Create a PDF from multiple Screenshot or other Images!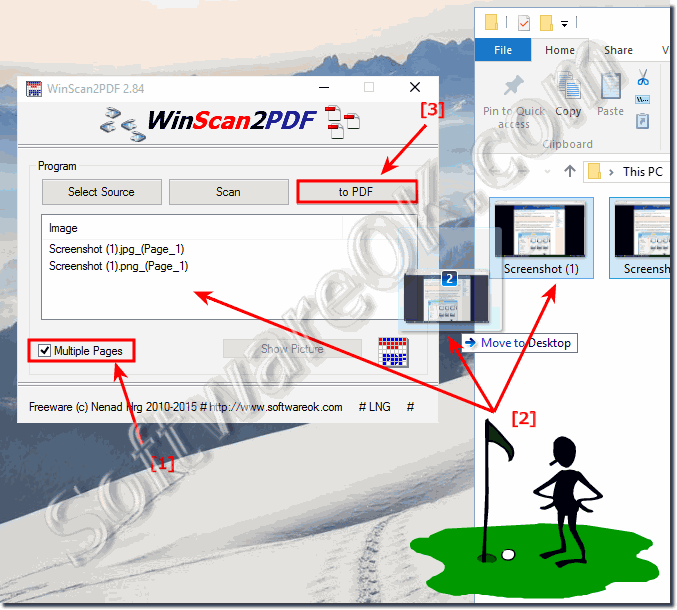 Info:
Now simply convert your JPG, PNG and TIFF images into PDF format for cataloging and sharing with others users. This free software can automatically rotates, optimizes and shrinks images while preserving the original resolution. Click the up to over 1000 images to convert. Wait for the convert and conversion process to complete.
Tip:
Saving JPG / JPEG and PNG files as PDF: This is how it works with Windows 10. As an alternative to the following instructions, you can simply change the file extension of the photo. Find the desired JPG file and right-click on it. Under "Open With" select the Windows software "Paint". Click on "File" in the top left corner of Paint and select the option "Save As". Change the extension ".jpg" to ".pdf" for "filename". If there is only the name, simply add the end ".pdf" (see picture). Via the button "Save" a PDF version is created from the image. The original JPG file is retained.