test_exymple@mail.com333 is only a sample text to show how to deal with QuickTextPaste works


Content:



1.) The test_exymple@mail.com333 in QTP!
If you don't need this email (auto insert command), simply delete it from the command list. 
( ... see Image-1 Point 1 )

In this example template, if you press the key combination Windows + Q , this test email is sent to the foreground program using an insert command. For example, if you are currently working in Word, exymple@mail.com333 appears at the current cursor position when you press Windows + Q.

You can customize the text templates, which are sent to the Windows program in the foreground when certain keyboard shortcuts are pressed.

See also:
► Send Images to a program via the file path via the clipboard !
► Working with date, time, calendar week in Quick-Text-Paste!



(Image-1) Test e-mail for automatic insertion via HOT-KEY!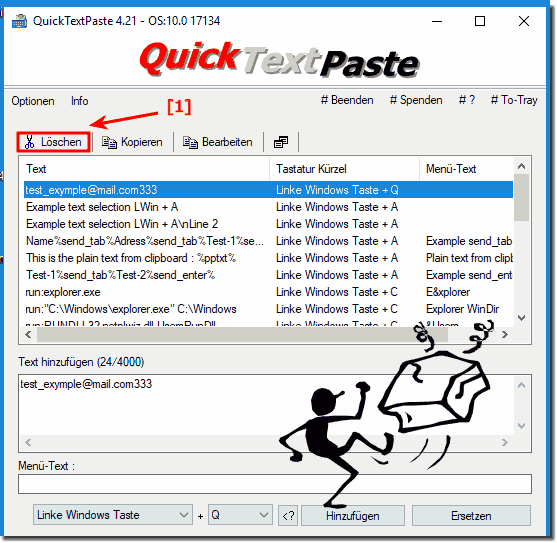 Incidentally, the automatic e-mail insertion via keyboard shortcut works under all operating systems Windows 11, 10 Pro, Enterprise, Home, Windows 8.1, Windows 8, Windows-Server 2019, 2016, 2012, Windows 7 Basic, Professional, Starter, Ultimate, I am often asked whether automatic email insertion via keyboard shortcut is also available for Linux, Android, MAC-OS or Ubuntu . I am sure that there are numerous tools for these operating systems, with Apple's iPhone and Samsung smartphone it will be difficult if no keyboard is connected, but here you can also connect a keyboard without any problems.  



2.) QuickTextPaste in combination with Windows 11, 10, .... clipboard history?

If you want to use the clipboard history in MS Windows delete the hot key Win + V
( ... see Image-2 point 1 and 2 )


or assign two commands to it!

If you assign two commands to the Win + V hotkey, the QTP selection menu appears and you can forward the hotkey to Microsoft Windows OS!

( ... see Image-2 Point 3 and 4 )




(Image-2) QuickTextPaste in combination with Windows clipboard history!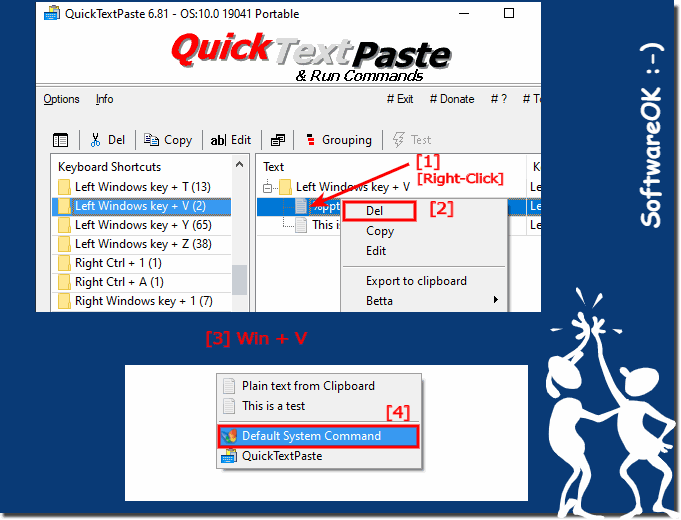 Very practical function for Windows 11, 10, ... etc.



FAQ 3: Updated on: 13 July 2021 09:53