The new task manager has detailed graphics card monitoring tools. You can view GPU usage per application and across the system!






This function is available from Windows 10 and Windows 11, as well as Microsoft Server 2016, so you may be able to do without third-party utilities thanks to the new MS Task Manager.




Content / Solution / Tips:




1.) When does the graphics card monitoring start working?
These GPU features were added in Windows 10 Creators Update and are present in Windows 11, also known as Windows 10 Version 1709. If you are using Windows 7, 8, or an older version of Windows 10, these tools will not appear in your Task- manager displayed.

►►... How to check what version of Windows 10 you have


Windows + R and command: winver
2.) Why doesn't the graphics card monitor work on some computers?
Under Windows 10 / 11, this information is only available in the task manager for WDDM 2.0 GPUs. If you don't know if you have it, or if your GPU supports it, it's pretty easy to check!
If you see a "WDDM 2.x" driver here, your system is compatible. If you see a "WDDM 1.x" driver here, your GPU is not compatible.
Is exclusively described here:
3.) See GPU usage by an application/program!
This information is available in Task Manager, although it is hidden by default. To access it, open Task Manager by right-clicking an empty area on the taskbar and selecting "Task Manager," or by pressing Ctrl + Shift + Esc on your keyboard . On the Processes tab of the full view of Task Manager

, left-click and right -click any column heading. ( ... see Image-3 Point 2 ) Then activate the "GPU" option


. This will add a GPU column where you can see the percentage of GPU resources used by each application. You can also enable the "GPU Module"

option to see which GPU module is used by an application (3D and GPUs for multiple graphics cards).

(... see Image-1 Point 1 to 3)





(Image-1) Monitor GPU usage in Windows Task Manager!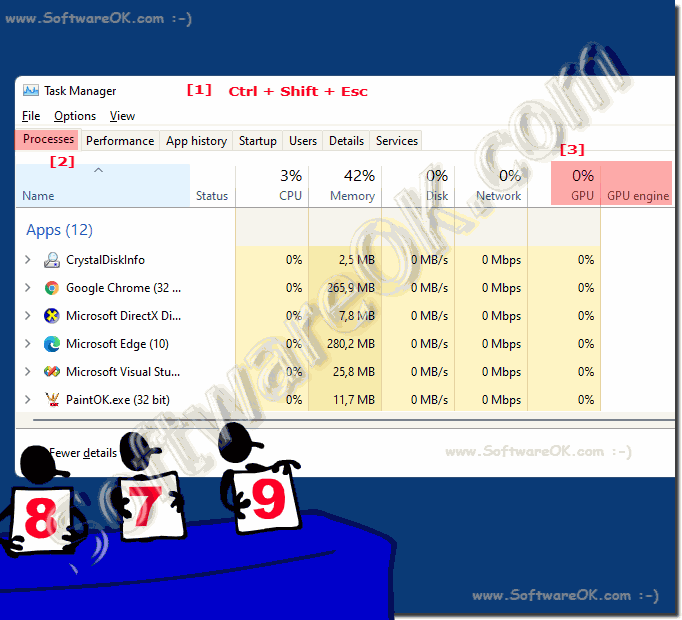 Info:
The GPU Engine column is displayed when an application is in use. This shows you, for example, whether the 3D or the video decoder is being used. You can see which GPU is in use with a specific number. 

4.) Detect video memory usage of a specific application! 
If you want to know how much video memory an application/program/APP is using, please switch to the Details tab in Task Manager. On the Details tab, right-click a column heading.
Now click on the
Select Columns
option . Scroll down and enable the
GPU
,
GPU Module
,
Dedicated GPU Memory
 , and
Shared GPU Memory
columns .
Tip:
The first two are also available in the Processes tab, but the last two Storage options are only available in the details pane.
(
... see Image-2 Point 1 to 4
)
The dedicated GPU memory column!
Shows how much memory a program, application, .. uses from your graphics card. If your PC, notebook, tablet, or Microsoft Surface / Surface Pro has a discrete NVIDIA or AMD graphics card, the physical memory on your graphics card used by the application is shown.
(Image-2) Graphics card memory usage by programs!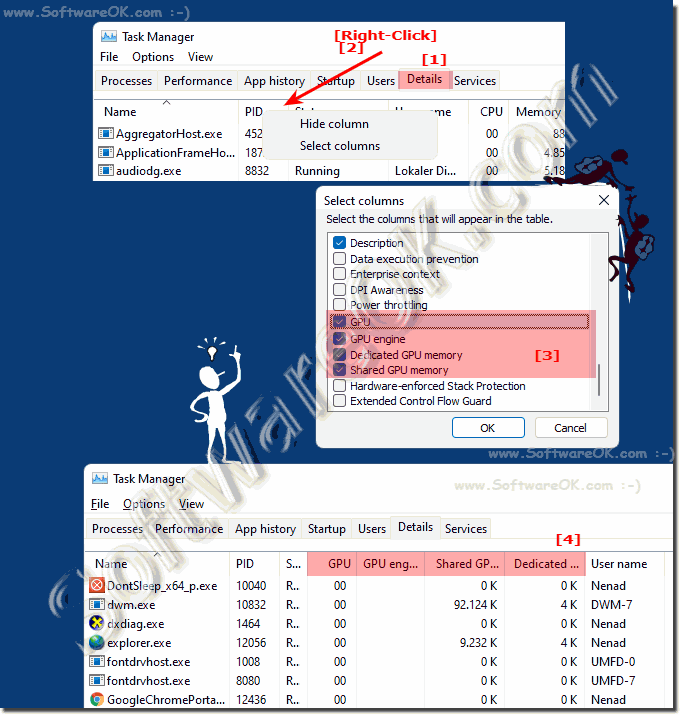 Tip:
You can click any of the columns to sort by them and see which application is using the most resources. For example, to see the applications that are using the most video memory on your GPU, click the GPU Dedicated Memory column .

5.) How to see the total usage of the graphics card!
In
Windows Task Manager
 , please click the
"Performance"
tab and look for the
" GPU "
option in the sidebar to monitor the statistics of the total GPU resource usage. You may have to scroll down to see them. If your computer has multiple GPUs, you will see multiple GPU options here. This is the case, for example, with NVIDIA SLI or AMD Crossfire.
(Image-3) Monitor Total GPU usage on MS Windows!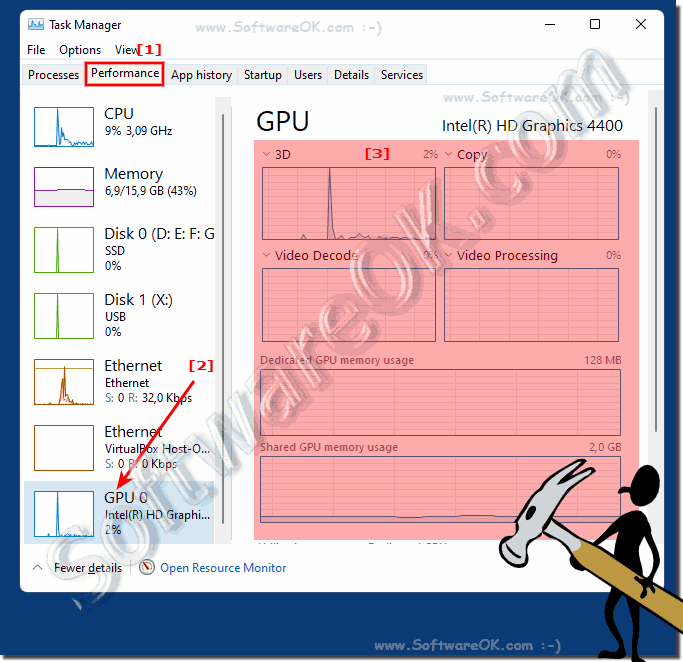 Tip:
When using multiple linked GPUs using a feature such as SLI or Crossfire, they are identified by one of their names. GPU 0 eg for the integrated Intel graphics and GPU 1 and GPU 2 for NVIDIA, or AMD Crossfire. 


FAQ 121: Updated on: 4 September 2023 10:24