It is easy to influence the CPU load on the aero desktop clock, if it is very high, under Windows 11, 10, 8.1, ...!




As a rule, the

desktop aero clock is

very CPU-friendly, but if you use the desktop clock in a considerable size, i.e. over 512 pixels wide, you might want to keep the CPU load even lower on the mobile device

laptop, notebook

, MS Surface, ... to improve

the battery life

 as muche as possible without having to resort to auxiliary programs such as

Auto-Power-Options-OK

.   

 

Content:


1.) Reducing the CPU load of the desktop clock!
1. Start the desktop Aero clock as usual 

2. Deactivate the second hand of the desktop clock

3. If the CPU load is not at "zero", reduce the size of the desktop clock
( ... see Image-1, Point 1 to 3 )

Tip:
In the  Task Manager, you can  clearly see the CPU load caused by individual programs and MS Store APPs.




(Image-2) Reduce the CPU load from the desktop clock!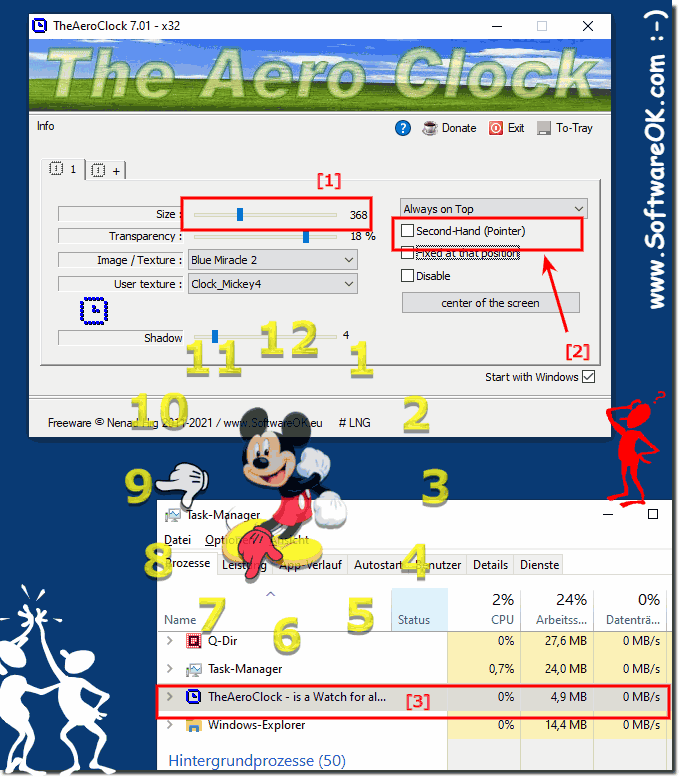 2.) Advantages and disadvantages of desktop clocks with low system resource consumption!

Reducing CPU load through the desktop clock can bring a number of benefits, such as: B. lower power consumption, lower heat and lower noise.




Reducing CPU load through the desktop clock should only be done if the desired benefits justify it. If you do not want to affect the performance of the system, reducing the CPU clock frequency should only be done for applications and games that do not require a lot of performance.




Example:

If you need a laptop with long battery life, you can reduce the CPU clock speed in power saving mode. If you have a desktop PC that requires a lot of power, you should only reduce the CPU clock speed for applications and games that don't require a lot of power.

Desktop clocks with low system resource consumption have both advantages and disadvantages.

Advantages:

Lower power consumption:
Desktop clocks with low system resource consumption consume less power than traditional desktop clocks. This can result in a noticeable increase in battery life on laptops or a reduction in electricity costs on desktop PCs.

Lower heat generation:
Desktop clocks with low system resource consumption also generate less heat. This can extend the life of the processor and reduce cooling requirements.

Lower noise:
Desktop clocks with low system resource consumption also produce less noise. This is especially important on laptops, where the fans are often audible.

Lower CPU load:
Desktop clocks with low system resource consumption place less strain on the CPU than traditional desktop clocks. This can result in improved performance and longer processor life.




Desktop clocks with low system resource consumption can be a good choice for users who are looking for a clock with low power consumption, low heat and low noise. However, users should be aware that these watches often offer fewer features and may affect the performance of applications and games.





FAQ 11: Updated on: 23 October 2023 16:07