If you have a Lifebook or other laptop, you have the feeling that the keyboard suddenly goes crazy. Here is the solution
  




Press the

Fn

key on your Lifebook, notebook or laptop , keep it pressed and also the NumLk key ( ... see Image-1 Point 1 and 2 ), both at the same time, ergo as a key combination.

After that, the keyboard works normally again.




(Image-1) LifeBook JKL 123 keys!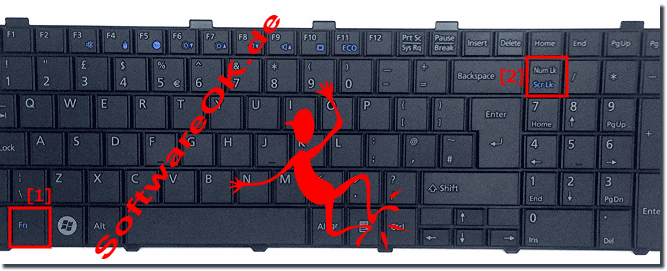 2.) More tips and troubleshooting for incorrect keyboard recognition!




If the JKL keys on your laptop display the numbers 123, this may indicate a keyboard layout or keyboard language setting. Here are some steps you can try to fix the problem:





Check the keyboard language:
Make sure the keyboard language is set correctly on your laptop. The method to change the keyboard language may differ depending on the operating system. You can usually find this setting in System Preferences or Control Panel.


Switch keyboard language:
You may have accidentally changed the keyboard language. Typically, you can change the keyboard language by pressing "Alt-Shift" (also known as "Alt-Shift") on Windows or by pressing "Ctrl-Space" on macOS. This allows the key mapping to be reset to the default keys.

►►  Change Windows 10/11 keyboard settings (language, customization)?

Update keyboard drivers:
Make sure your keyboard drivers are up to date. You can do this through Device Manager in Windows or System Preferences in macOS. Update the driver if an update is available.

►►  Update the keyboard drivers

Connecting an external keyboard:
If the problem persists, try connecting an external USB keyboard to your laptop to see if the same problems occur. If the external keyboard is working properly, it may indicate a hardware problem with the internal laptop keyboard.
►►  Windows 10 on-screen keyboard cannot start?

Clean the keyboard:
If you suspect that the problem is due to dirt or dust under the keys, you can try gently cleaning the keyboard. Before you do this, turn off and unplug the laptop. Use compressed air or a keyboard cleaning brush to remove dirt and dust.

►►  Shift key on computer gets stuck

Professional repair:
If none of the above solves the problem, you should consider having your laptop checked and repaired by a professional. There may be a hardware problem with the keyboard itself that requires professional repair.




These steps should help you diagnose and hopefully fix the JKL keys issue on your laptop. If the problem persists, it may be advisable to contact the laptop manufacturer or a qualified technician.





FAQ 51: Updated on: 5 October 2023 17:22