It is quite easy to
add a PDF file content

from other PDFs or images to create a new PDF file on your MS Windows 11, 10, ... or MS Server OS!


Content:


1.) Add PDFs or Images via Drag & Drop!
With the freeware WinScan2PDF it is possible from version 3.85.

You can add PDF files or images on the program or the program symbol or program link ergo shortcut.
via Drag & Drop (... see Image-1 Point 1 and 2 )

Then you can if necessary: ► set the order of the individual PDF pages!

and optional: ► ... Change the quality of the PDF file!

Or save the individual images from the PDF file ► ... as JPEG / PNG files!

Please use ... always the latest version of WinScan2PDF!



(Image-1) Add PDFs and images to the the PDF!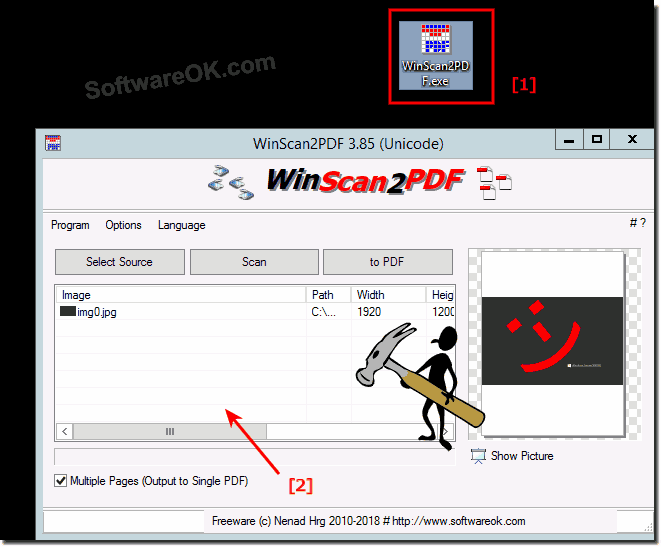 2.) Add from the MS-Explorer menu or Send To!
The freeware WinScan2PDF can be added from the version 3.88 to the MS-Explorer context menu or alternatively to the Explorer Send to menu. (... see Image-2)

See also: ... Rotate the image or scan before PDF create!




(Image-2) Add PDFs pages from MS Explorer menu!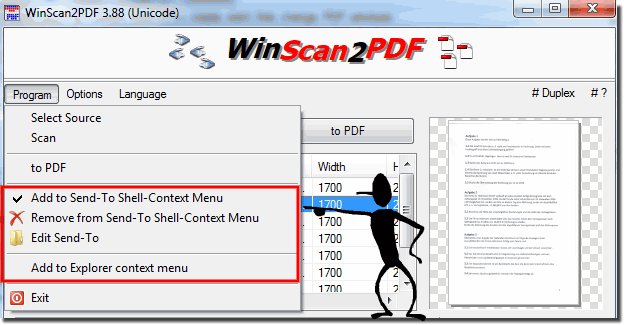 3.) Advantages and disadvantages of adding images to the PDF using the MS Explorer menu!

Adding images to a PDF file using the Microsoft Explorer menu has both advantages and disadvantages. Here are some of them:

Pros:

Ease of Use: Using the Microsoft Explorer menu is easy and requires no additional software or tools. It is already integrated into the Windows operating system, so you don't need to install any third-party software.

Time Saver: This is a quick way to integrate images into a PDF file, especially if you already have images on your computer. You can easily select files and merge them into a PDF file without any additional steps.

No Internet Connection Required: Unlike some online converters or tools that require an Internet connection, you can use this method even without Internet access.

Cons:

Limited functionality: The Microsoft Explorer menu only provides basic functions for merging images into a PDF file. You can add images and change their order, but you don't have the flexibility to add text, rotate pages, or do other advanced editing.

Limited image format support: The Microsoft Explorer menu may not support all image formats. This can cause problems if you have images in exotic formats that are not supported.

Limited customization options: If you have specific requirements for the layout or quality of the PDF file, you will reach your limits with the Microsoft Explorer menu. It offers limited customization options.

No security or privacy features: Adding images to the PDF file via the Explorer menu does not provide options for encryption, password protection, or other security features available in other PDF tools.




Overall, the Microsoft Explorer menu is suitable for quickly and easily integrating images into a PDF file, but may not be the best option if you need extensive editing or security features. In such cases, you should use special PDF editor software or online tools.







FAQ 14: Updated on: 28 October 2023 20:29