The option should be activated easily,
then scanned JPEGs

are automatically deleted or cleaned up when the program is closed!


Content / Solution / Tips:


1.) Understand the temporary scan folder!
1. Start ► the  WinScan2PDF for MS Windows OS

2. and open the menu item Options 

2. Select ergo deactivate the option:
"Do not delete temporary scans"




(Image-1) Auto clean up scanned JPEGs at Program end!

Info:
As you can see above in Windows 10 shot screenshot, you can decide whether scanned images should be deleted automatically, this example is not only for Win 10, it can automatically delete scanned images even with older versions. It also does not matter whether it is using a Windows 11, 10, ... etc. desktop PC on the home PC or scanning it on the tablet / Surface Pro / Go, or even on a MS Server operating system or in public authorities. It was tested on various MS operating systems and successfully 
verified
.

Change the default scans location for saved JPEGs 
(Image-2) Change the default location for scanned PDF documents!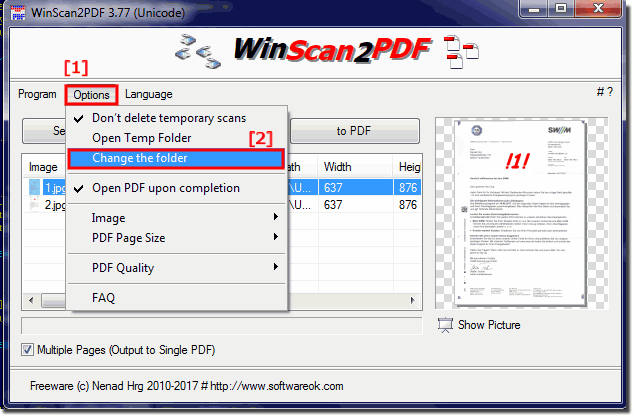 2.) Tip: Open the scanned image in the folder or edit!
If you have been using WinScan2PDF for quite some time now, you are glad if you show the picture in  WinScan2PDF, then the display program in Windows automatically opens. Since the scan files often have lines of letter creases or ink splashes visible, they are often cleaned by Paint.net or MS-Paint.

Previously, the file was accessed via the menu item: Options> Open temporary folder> right-click the file and then open with.

Quite awkward, now from 4.71 you can open the file in MS-Explorer and let mark directly the file (... see Image-3 Point 1) or edit in MS-Paint (... see Image-3 Point 2)




(Image-3) Open the scanned images in the folder or edit before create PDF!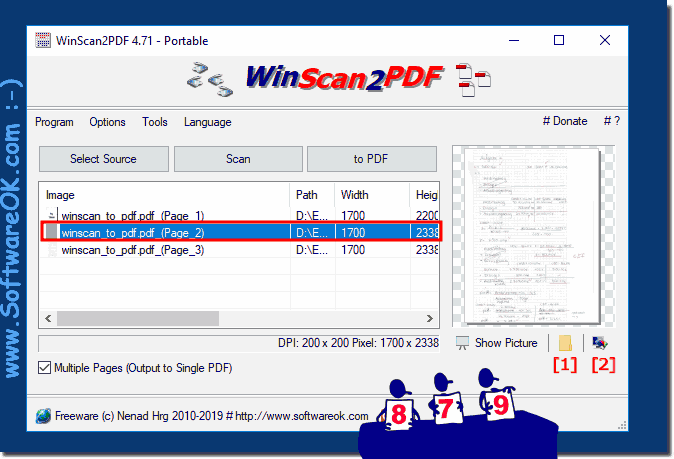 FAQ 19: Updated on: 26 August 2023 17:56