There is a very rare error that occurs
when saving the PDF under Windows 10/11 OS

, but can be fixed quickly!


Content:



1.) Save PDF Fix error in Windows 10/11!
1. Start your scan in WinScan2PDF

2. Before saving the PDF, please turn off the Defender folder protection.

Optional:
Via the menu ► Options ► MS-Defender ►Activate folder access for WinScan2PDF

PS: Then the  defender folder protection does not have to be deactivated, and this is very practical.




(Image-1) Easy Resolve PDF save Error on Windows 10 OS!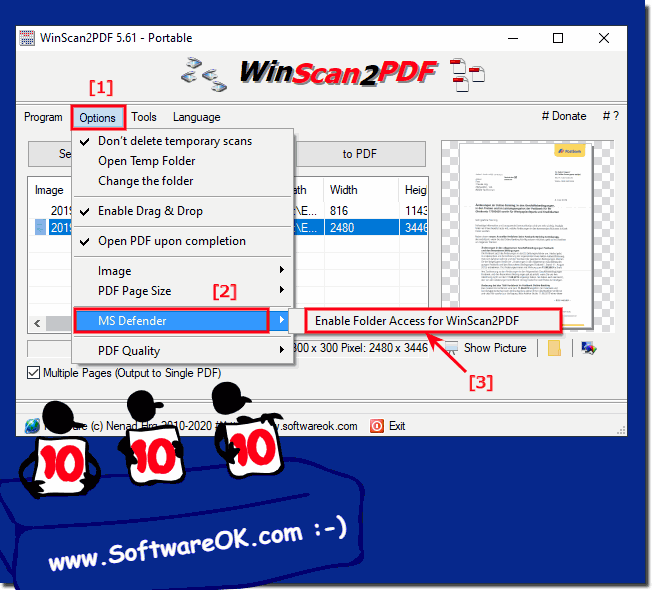 2.) Why does this save PDF error occur on Windows 10 and Windows 11?
Since for many users the pictures are in the "My Pictures folder" under Windows 10 and when  the folder protection is activated, the system folder (C:\Windows) is not protected, however, for whatever reason, you may need access to save the PDFs

►►  you can define the list of trusted or allowed apps and programs themselves and add to prevent programs and thus you are even blocked.

Now even faster for the popular Scan To PDF Tool





3.) How often do I have to repeat it, when will this PDF save errors comes back again?



A maximum of 2 times a year for the major Windows 10 update , which is not so time-consuming if you know how to save the PDF. 





FAQ 26: Updated on: 3 July 2022 17:49