Starting with version 8.22, it is possible to sort the scans backwards, whether all files or only selected files, regardless of the scanner you use! 



Contents:



1.) Backward sorting of the scanned pages! 
1. Start as always ► WinScan2PDF 

2. After the scan, you can simply sort the pages backwards 
(all or only selected scans / images)

3. Then, as always, simply save as a PDF file via the "to PDF" button


PS: Sort them by drag and drop if necessary



(Image-1) Reverse sorting of the scans all or only selected ones!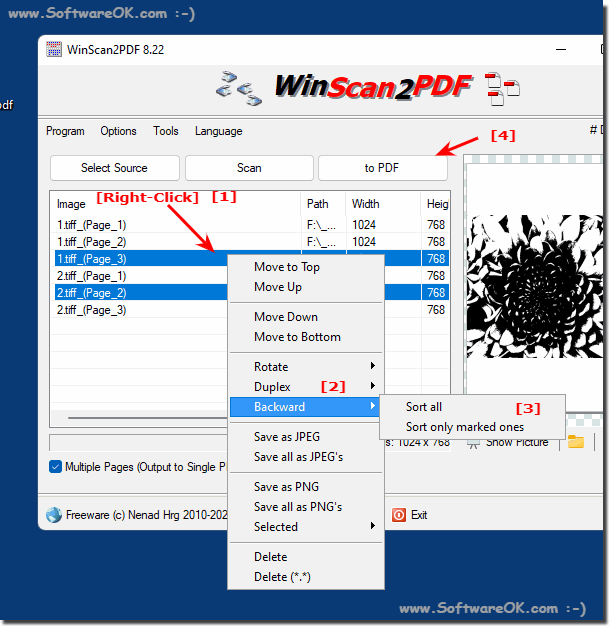 2.) More tips on sorting, scanning, and Co.!

Sorting PDF scans in reverse order can be done in a variety of ways, depending on the tools available and your preferences. Here are some ways you can achieve this:

 

 

Other options for sorting, scanning, etc.!


Move manually: You can move the files manually in a file explorer (Windows Explorer, Finder on Mac, etc.). Arrange the files in reverse order by dragging and dropping them or using the appropriate commands to move them up or down.

PDF software:
If you use PDF software such as Adobe Acrobat Reader or Adobe Acrobat Pro, you can open the files in reverse order and then save them in the order you want.


Command Line (Linux/Unix):
If you are using a Linux or Unix system, you can use the command line to reverse the PDF files. Here is an example using the "pdftk" (PDF Toolkit) command:




pdftk input1.pdf input2.pdf cat input2.pdf input1.pdf output output.pdf




This command first adds Input2.pdf and then Input1.pdf to Output.pdf, reversing the order.

Online Tools:
There are also many online tools and websites that can reverse PDF files. You can simply type "reverse PDF pages" or similar terms into your favorite search engine to find such tools.




Info:

Please note that sorting PDFs in reverse order can also result in the page numbers of the documents being reversed. Make sure this meets your needs before changing the order.





FAQ 32: Updated on: 29 September 2023 15:11