Create for Windows 10 a onscreen keyboard desktop shortcut for a fast access to virtual osk from the Desktop! 


It is very easy in Win 10, you can start the osk via Ease of Access Center in Window 10 Control Panel.

Or Via Windows+R and the command

osk

 (... see Image-2).

The Location / Full-Path  of osk.exe is C:\Windows\System32

The fastest and simplest solution  to create a Desktop shortcut for on screen keyboard in Windows 10 is:

Please start the MS-Explorer from Window 10 Run Command (Windows+R)  and enter the  command:
explorer /select, %WINDIR%\System32\osk.exe 

This command will auto select the osk.exe in

C:\Windows\System32\

 folder.

Now use Right Mouse Drag and Drop and rename the Desktop Shortcut for example to OSK on your Windows 10 Desktop. (... see Image-1 Arrow 1 to 3) that is a fast and simple solution :-)

See also: install additional language files || windows 10 change keyboard speed || Windows 10 desktop icons to big ||  

Useful info: . Windows 8 / 10 on screen keypad at startup / log in without keyboard!



(Image-1) Windows-10 - Virtual on screen keyboard Desktop shortcut!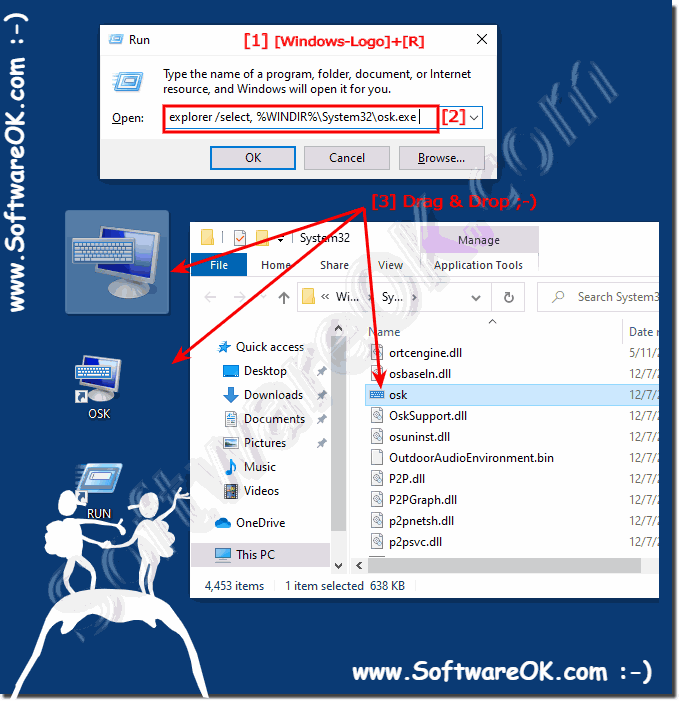 Useful Infos:

On-Screen Keyboard displays a visual keyboard on the Windows 10 with all the standard keys. You can select keys using the mouse or another pointing device, or you can use a single key or group of keys to cycle through the keys on the screen.

Instead of relying on the physical keyboard to type and enter data, you can use the Windows 10 On-Screen Keyboard.

Text prediction is only available in English, French, Italian, German, and Spanish. To enable text prediction in a specific language, you must first install additional language files on Windows 10 for that language. For more information, see Install or change a display language on Windows 10.




(Image-2) Run on screen keyboard in windows 10!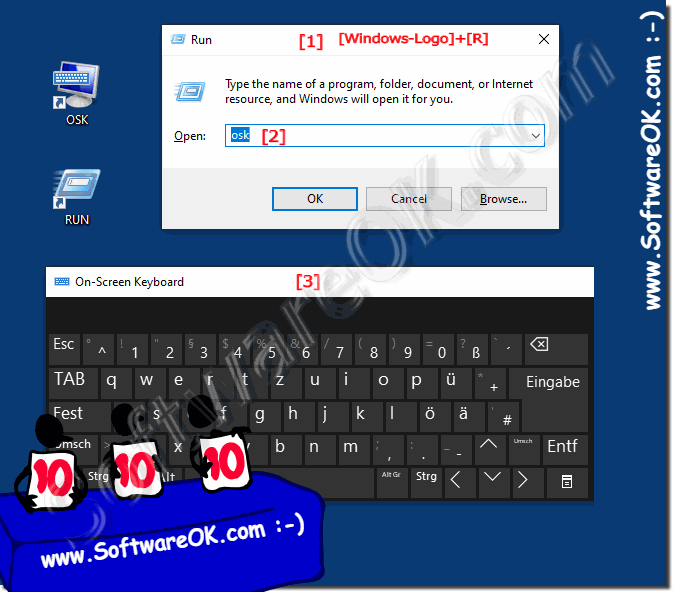 FAQ 106: Updated on: April 30th 2018 16:42