Change the
screen resolution on Windows 10

, you can do this via the control panel and new Display Settings, Here's the solutions!



The solution 1 is for Windows 10 Old, the solution 2, 3 from Redstone (Windows 10 Pro and Home)


See also:
► Enable screen saver password in Windows 10 ► Hibernation settings windows 10 ► Auto-Login Windows 10

1.) Windows 10 and new Screen Resolution settings!

1. Please do a right click on the Windows 10 Desktop and select Display Settings 

2. In System select Display click Advanced display settings 
(... see Image-2 Arrow 1 to 4)

3. And now ... change the Windows Display Resolution! 
(... see Image-3 Arrow-1)


(Image-2) Solution 2 to Change Screen-Resolution in Windows-10!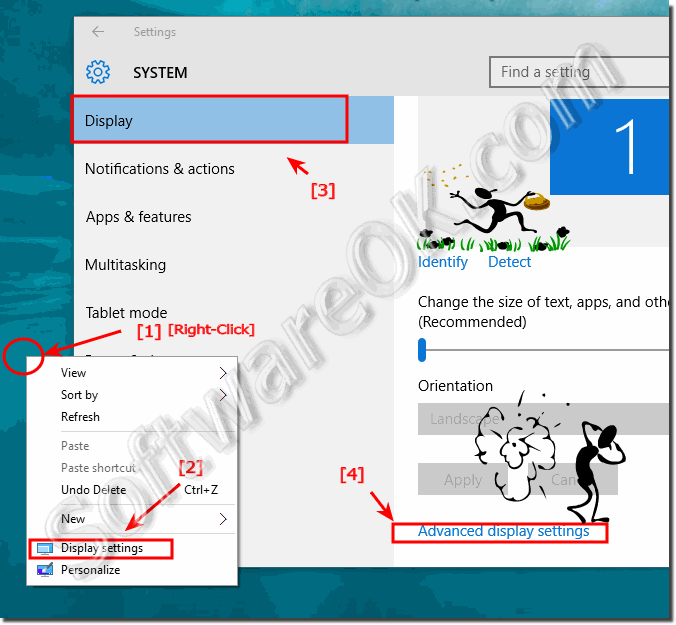 If the screen is flickering on Windows 10, or viewing the screen is uncomfortable, increase the refresh rate until you are comfortable with it. The higher the refresh rate, the less likely there will be any noticeable flicker. Because LCD monitors don't create flicker, they don't need to be set at high refresh rates. 



(Image-3) Change Display-Resolution in Windows-10!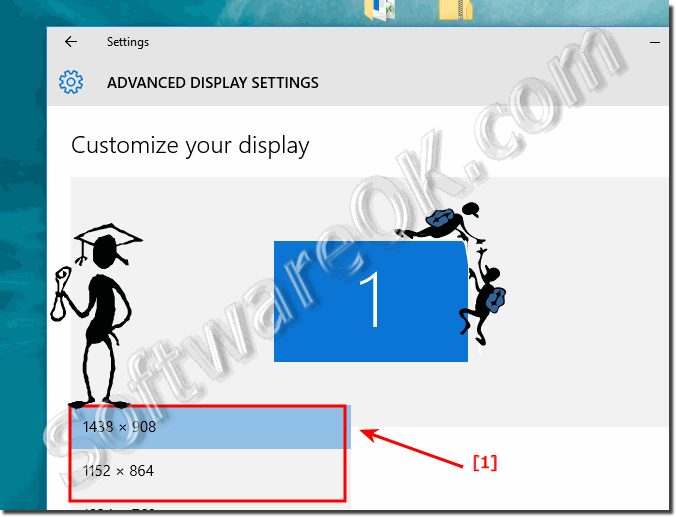 Windows 10 includes a technology called ClearType that is turned on by default. ClearType allows your monitor to display computer fonts as clear and smooth as possible. This can help make text easier to read over long periods of time without causing eyestrain. It works especially well with LCD devices, including flat-panel displays, laptops, and smaller handheld devices.

Nice Info from Microsoft (c):

The Windows 10 Screen resolution refers to the clarity of the text and images displayed on your screen. At higher resolutions, such as 1600 x 1200 pixels, items appear sharper. They also appear smaller so more items can fit on the screen. At lower resolutions, such as 800 x 600 pixels, fewer items fit on the screen, but they appear larger.

The resolution you can use depends on the resolutions your monitor supports. CRT monitors generally display a resolution of 800 × 600 or 1024 × 768 pixels. LCD monitors, also called flat-panel displays, and laptop screens often support higher resolutions. The larger the monitor, usually the higher the resolution it supports. Whether you can increase your screen resolution depends on the size and capability of your monitor and the type of video card you have.



LCD monitors, including laptop screens, typically run best at their native resolution. You don't have to set your monitor to run at this resolution, but it's usually recommended in order to ensure you see the sharpest text and images possible. LCD monitors generally come in two shapes: a standard proportion of width to height of 4:3, or a widescreen ratio of 16:9 or 16:10. A widescreen monitor has both a wider shape and resolution than a standard ratio monitor.

If you're unsure of your monitor's native resolution, check the product manual or go to the manufacturer's website. Here are typical resolutions for some popular screen sizes:

* 19-inch screen (standard ratio): 1280 x 1024 pixels
* 20-inch screen (standard ratio): 1600 x 1200 pixels
* 22-inch screen (widescreen): 1680 x 1050 pixels
* 24-inch screen (widescreen): 1900 x 1200 pixels



2.) ... Change the screen resolution direct in Windows Settings!
Use Keyboard shortcut 
Windows+i 
and enter 
screen
(Image-4) Change Screen Resolution Redstone-4-5!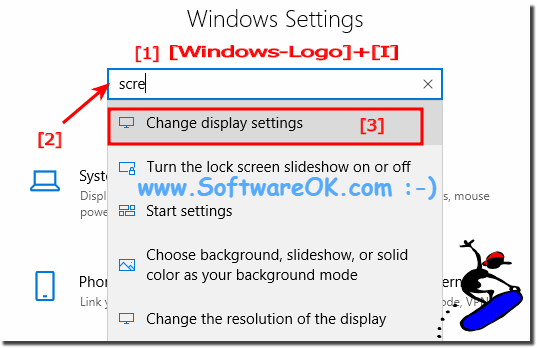 3.) More tips to get to grips with the screen resolution problem!
Some screens and video cards do not correctly detect screen resolution.

For example, if you installed a new display driver for the first time on the computer, you had this problem, in Windows you can have the driver updated automatically, which can sometimes lead to the resolution problem of the screen resolution .



Also on Windows Server 2016 there are problems with the screen resolution, but after the installation of the latest drivers it is usually gone, one should be given if also change the screen cable!

Swapping the monitor cable can also lead to success in determining if it is the monitor cable before simply sliding the problem to windows.



The screen resolution is still a sticking point that leads to problems under Microsoft Windows, even if the most modern LCD and LED monitors are used. Wrong screen resolution is just a mystery why it comes to it and what can you do to tackle the problem, here are some few handles listed that may eventually lead to the resolution of the screen resolution problem!


4.) The Classic Screen Resolution settings in Windows 10!
Info: not for from Windows 10 Creators Update   

1. Please use

desk.cpl ,3

 or control.exe desk.cpl,Settings,@Settings command

2. In the Windows Screen Resolution Settings, like in on Windows 8.1, 7, ... 

Star the command from Windows 10 Run-Dialog and set the new Display resolution.

(... see Image-1 Arrow 1 to 4)





(Image-1) Windows-10 and classic Screen-Resolution settings!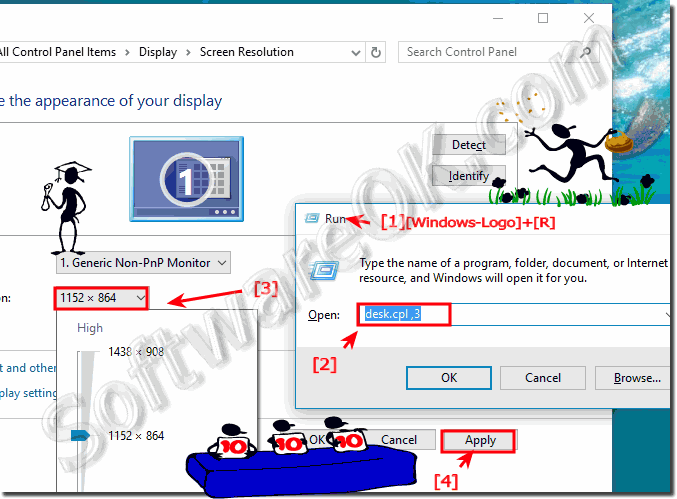 Windows 10 colors and themes work best when you have your monitor set to 32-bit color. You can set your monitor to 24-bit color, but you won't see all the visual effects. If you set your monitor to 16-bit color, images that should be smooth might not appear correctly.






FAQ 130: Updated on: 25 August 2023 12:31