It is pretty easy on Windows 11, 10, ... to add *.bin files to WinBin2Iso , to convert the bin and image.img files into ISO files!
1.) Add bin Files to Win Bin To Iso
1. You can add the BIN files via drag & drop
(... see Image-1 Arrow-1)

2. Or via click on the button "..." to select directly the BIN file.
(... see Image-1 Arrow-2)



(Image-1) Add BIN files in Windows BIN-to-ISO!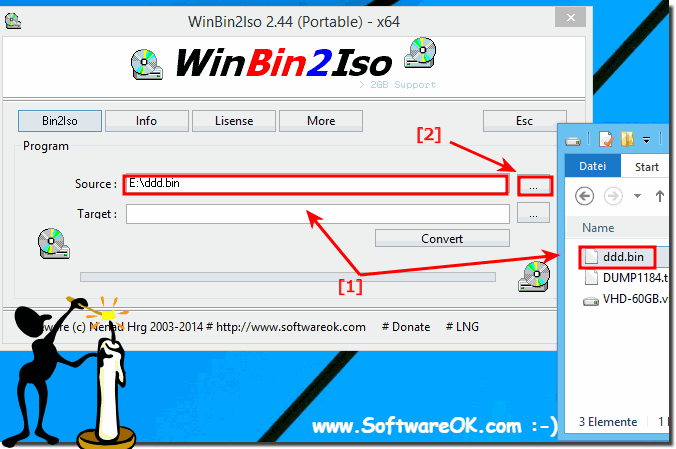 2.) User info: i converted 3 image.img files for PS3!
Info:


Hey, just wanted to let you know, i converted 3 image.img files using winbin2iso, you could easily add a *.img to the loading screen, they loaded fine in my ps3 which is pretty good proof it worked
3.) Converting IMG files for PS3 what's the purpose!
Converting IMG files for PS3 can serve various purposes including creating backup copies of games or managing PS3 hard drive contents. Here are some basic steps to convert IMG files for PS3:

Check the file type: Make sure the IMG files you want to convert are suitable for PS3. PS3 games are usually distributed as ISO or JB folder files.

Use appropriate software: To convert IMG files to the correct PS3 format, you need special software. A commonly used application for this task is "PS3 ISO Tools" . Download and install the software on your computer.

Extract or Convert: Open the IMG file with PS3 ISO Tools software. Usually you can choose whether to convert the IMG file to ISO or JB folder format. Select the appropriate option.

Wait for the conversion: Depending on the size of the IMG file, the conversion may take some time. Wait for the process to complete.

Transfer the converted file to PS3: After the IMG file is converted to the desired PS3 format, you can transfer the file to your PS3. This can be done via USB, network or another suitable method.

Install or Play: Once the converted file is on your PS3, you can either install it (if it's a game) or play it, depending on what type of file it is.




Info:

Please note that converting files for PS3 may violate PlayStation's Terms of Service. Make sure you comply with all applicable laws and regulations and only use legitimate copies of games.







4.) Converting files for the PlayStation 3 (PS3) and legal aspects!

Converting files for PlayStation 3 (PS3) may involve legal issues and it is important to comply with applicable laws and regulations. Here are some important points to keep in mind:

Backup copies: Some countries allow you to create backup copies of games or media that you have legally purchased. However, this may vary from country to country. Check the laws in your area to ensure you are acting in accordance with the regulations.

Copyright:Many of the games and media content available on the PS3 are protected by copyright. Converting copyrighted files without the permission of the copyright owner may be a violation of copyright law. It is important to ensure that you only have the necessary rights or licenses to convert or copy files.


Modifying Game Content: Modifying game content or circumventing copy protection measures may in many cases violate PlayStation's copyright and/or Terms of Service. This can have legal consequences.

Homebrew software:Running community-created homebrew software on the PS3 can also raise legal issues. Some homebrew software projects are legal and tolerated by Sony, while others violate the PS3's terms of service.

Fair Use: In some cases, conversion of content for personal use and invoking the principles of "fair use" in the United States and similar concepts in other countries may be permitted. However, this depends on the circumstances and may be interpreted differently from court to court.




It is important to emphasize that laws and regulations may vary by region. Therefore, if you are unsure whether your intended action is legal, it is advisable to contact a lawyer or legal advice center in your area. Please also note the terms of use and license agreements of Sony and the rights holders of the content you convert.







FAQ 2: Updated on: 28 September 2023 18:29