The solution to change the Windows 10 or 11 computer sounds, for example, to provide a little individuality in Windows 10 or Win 11!



See also: 
► Where is the Windows 10 Start Sound, Logoff, Logon, ► Is my Windows 10 x86, x32 or x64 on my computer ?

1.) To change a Windows 10 and 11 sound scheme!
Open directly the Windows  settings via the Windows 10 run dialog and command:


control /name Microsoft.Sound /page Sounds

 
or open through the Windows 10 Control Panel and the Sound icon.

And simply select another sound scheme (... see Image-1 Arrow 1 to 4)

Info:  Additionally, some Windows desktop themes have their own sound schemes.




(Image-1) Change the Windows-10 sounds scheme!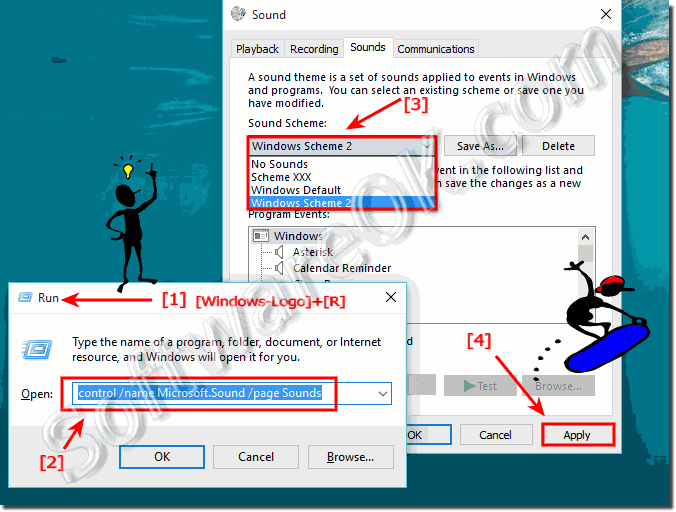 You can have your computer play a sound when certain events occur on your Windows 10. An event can be an action that you perform, such as logging on to your Windows 10, or an action that your computer performs, such as alerting you when you receive new e‑mail. Windows 10 comes without several sound schemes.

2.) Change sounds in Windows 10 and on Win 11!

To change sounds for example for specific Program Event, click a program event in the list and then select a sound or Browse for own sound file and click to apply.  (... see Image-2 Arrow 1 to 3)

And now you can save the changes as a new sound scheme.




(Image-2) Change computer sounds for the Windows-10 events!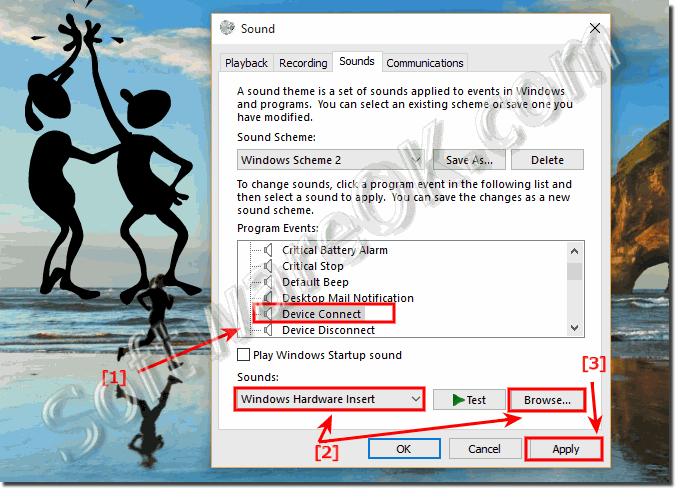 Infos from Microsoft (c):

When you make changes to one or more individual sounds in Windows 10, you create a new sound scheme, which is automatically saved with a new name: the name of the current scheme with "(modified)" added. For example, if the current scheme is Sonata, and you change one or more sounds, the new scheme is called Sonata (modified). But you can give your new sound scheme (or an existing scheme) a new name.

3.) Save individual sound scheme in Windows 11 or 10!

Please click the Sound Scheme that you want to rename or save.

Click the button Save As and enter a name for the new sound scheme, and then click OK. (... see Image-3) 


(Image-3) Save the New Windows-10 Sound-Theme!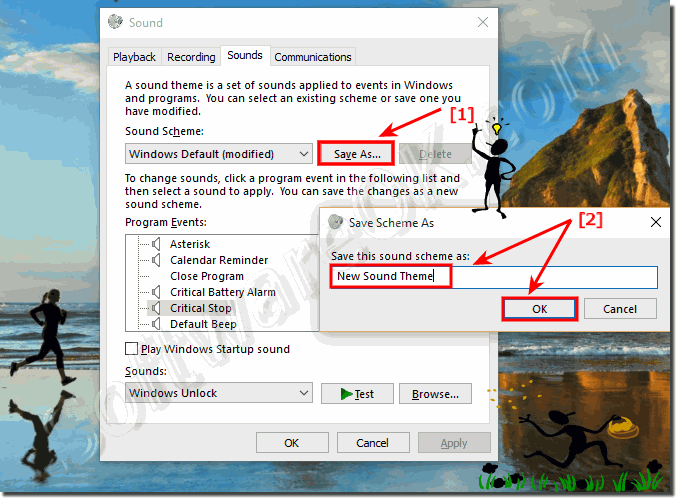 Info: A Windows 10 sound theme, is a set of sounds applied to events in Windows 10 and programs.  You can select an existing scheme or save one you have modified.
FAQ 143: Updated on: 25 August 2023 12:34