Here is the fastest way to
switch user in Windows 10

without logging off or turn off the personal computer or Server!



Switching between accounts in Windows 10.

You can accomplish this goal in several ways. They are all simple and the end result will definitely be the same. Therefore, you can choose the most comfortable ones yourself and use them in the future. Note that these methods can be applied to both local accounts and

Microsoft Account

 profiles.





1.) User switching with Windows + L!
The fastest User switching in Windows-10 is via Keyboard-Shortcut [Windows-Logo] + [L]! 

This method is the simplest of them all. The fact is that it allows you to switch from one profile to another without menus and other actions.

This key combination allows you to terminate or lock the current account immediately. As a result, you will immediately see the login window and a list of available user profiles. Select the desired entry / user as in the previous versions of Windows, enter the password and click the Login button ► if a Windows 10 password has been set!



 



However, you can use this example als as a solution without h disadvantages for other versions of Microsoft's Windows operating systems whether it's a home Windows desktop computer, to go on tablet-PC and Surface Pro / Go, or even a server operating system. 



2.) user switching and combination of Alt + F4 keys!
1. Please pres the Keyboard-Shortcut Windows+D
2. Keyboard-Shortcut Alt+F4
3. Key S
4. Enter

This is possible, if you have on Your Windows-10 PC more than one user account. The fast user switching is the best way for another person to log-in on Windows-10 Computer without log-off you from the Windows-10 PC, or closing your programs, files, windows or running apps.

See also: ► disable the switch user at login screen ► Auto-Login without Password ► windows 10 without live id



(Image-1) Switch user in Windows 10 keyboard-Shortcut!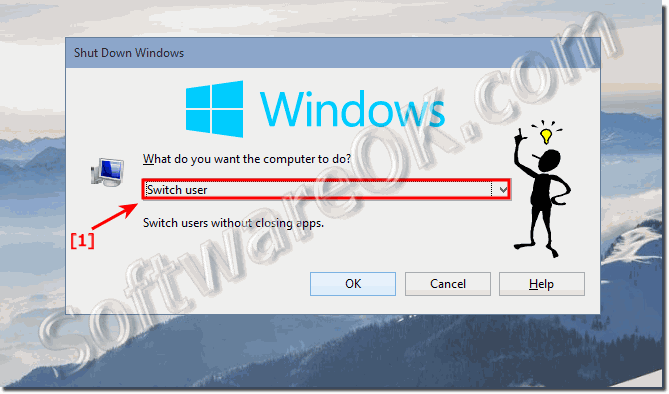 Not every user is satisfied with the Windows 10 User Switching feature, which is provided by default in each Windows. For some it is too expensive. You want a faster solution if you are such a user, this FAQ is a guide to faster user switching on Windows 10.

If multiple people are using a Windows 10 computer, or a laptop / tablet, it pays to think about creating different user accounts for Windows 10 . In this way, workspaces can be delimited because all users have different settings, file locations, and so on. In the future, it will be enough to switch from one account to another. It's about how to do this in the Windows 10 operating system.

Tip: ► Change Windows 10 user passwords via NET USER command!

http://windows.microsoft.com/en-us/windows/switch-users-without-logging-off#1TC=windows-7
3.) Comfortable also via the Windows 10 Start menu !

This is perhaps the most popular way to switch users, you will need to do the following: User switching Windows without keyboard!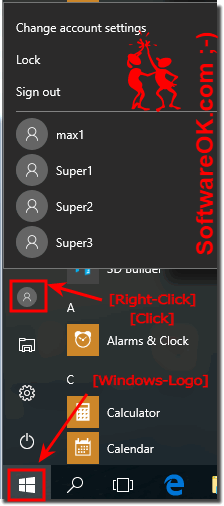 You will see the button with the Windows logo in the lower left corner of the desktop. Click on it. Alternatively, you can use a key with the same Windows logo pattern on the keyboard.


After clicking on the Windows 10 Start button, in the left part will open a window, you will see a vertical list of functions. At the top of this list is the image of your account. It is necessary to click on it.


This method is very popular with Windows 10 tablet users, or for example the Microsoft Surface PRO, because you can change users without a keyboard, very convenient!

Info!
When logging in to another user for the first time, the system has to wait a while for the customization to take effect. It literally takes a few minutes. It is enough to wait until the notification hints disappear.



After the message when logging in for the first time on Windows 10, you are on the desktop of the selected account. Note that the operating system settings for each new profile are reset to their original state. In the future you can change it as needed. They are stored separately for each Windows 10 user.








Create and manage user accounts in Windows 10 !


4.) Information on the simultaneous use of user accounts under Windows 10!

After we have changed the user but have not left the previous account, the PC is heavily charged. It's about extra memory, as well as the load on the processor and other hardware. In this case, the PC is used only if there is a constant need to switch between the "users" and all necessary work data (open documents, tabs in the browser, etc.) are stored.

If there is an active change of accounts, but at the same time the input to this or that "register" is new, all data will be reset, as when the computer is switched off. Accordingly, all programs are closed and unsaved data is lost. When you turn off your computer, unsaved data is lost to all accounts. If the Remote access to the Windows-10 computer , all unsaved data is irretrievably lost when the user changes. Based on the windows administrator account, you can create other users who have either full or limited rights.





FAQ 24: Updated on: 5 December 2020 10:24