This guide shows you
how to change the computer name in Windows 11/10

to any PC without limitations! You can not use special characters or marks. 

Computers on the local network must have unique names. Not only because network conflicts can occur with two computers with the same name, but also because they are easier to identify, especially when it comes to PCs and laptops in the corporate network in example, you see this on the network. what kind of computer it is. By default, Windows 10 creates the name of the computer, but you can change it.

From 2020: Please use

Windows+R

Key and command

control system

(► 

Open System the in Classic panel

)

 

The best and fastest way to change the PC name is to open the new Windows 10 settings interface by pressing the Win + X buttons or the notification icon by clicking the "All Parameters" item (another option: Start - Settings) can be called.

Use the Keyboard Shortcut Windows+X ► System ► Change settings (

... see Image-1 Point 1,2,3

)

and change thee PC Name (

... see Image-2

)

(Image-1) Change PC name Windows 10!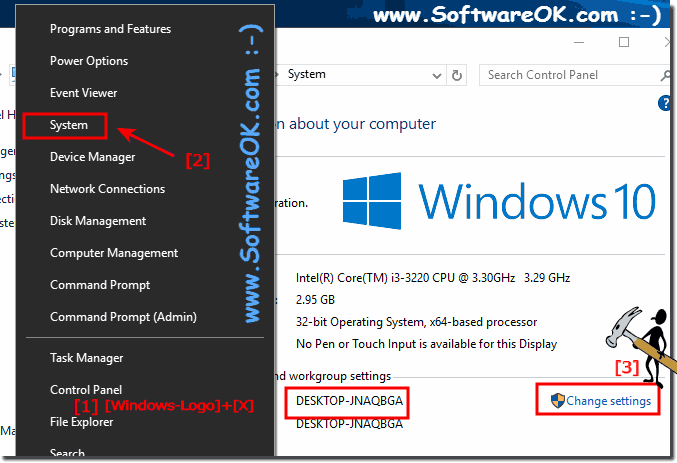 If you change the computer name in Windows 10 when you use a Microsoft account, a New Computer is added to your online account. This should not cause any problems, and you can remove the old-name computer from the side of your account on the Microsoft Web site.
If you use them, the built-in functions of file history and archiving (old backups) will be restarted. The history of the files will report this and suggest the steps to incorporate the previous story into the current one. Regarding the backups, they are recreated, at the same time the previous ones are available, but when they are restored, the computer gets the old name.
Another potential problem is the appearance of two computers on the network: with an old and a new name. In this case, try turning off the router when the computer is turned off. Then turn on the router / WiFi Box first and then the computer.

(Image-2) Change PC name Windows 10!