Defining the default printer is important because it is the printer to which all print jobs are sent, including Windows 11!

Unless otherwise specified by Windows 11, 10, ... program, application, APP, ... If the Windows 11 standard printer is set correctly, the program does not always ask which printer should be used for each printing process.


1.) Define or set standard printer in Windows 11!
1. Key shortcuts Windows logo + R

2 command: control and then with F3 key  search focus
See also: ►►  Control Panel Windows 11

3. Enter text printer

4. Now simply "Devices and Printers" 

5. Select the Windows 11 standard printer with the right mouse button

6. Set Windows 11 default printer  

(... see Image-1 Point 1  to 6)

PS:
opening the printers folder in Windows 11 also is a keyboard-shortcuts Windows logo + R and the command: shell:PrintersFolder 



(Image-1) Set the default printer for Windows 11!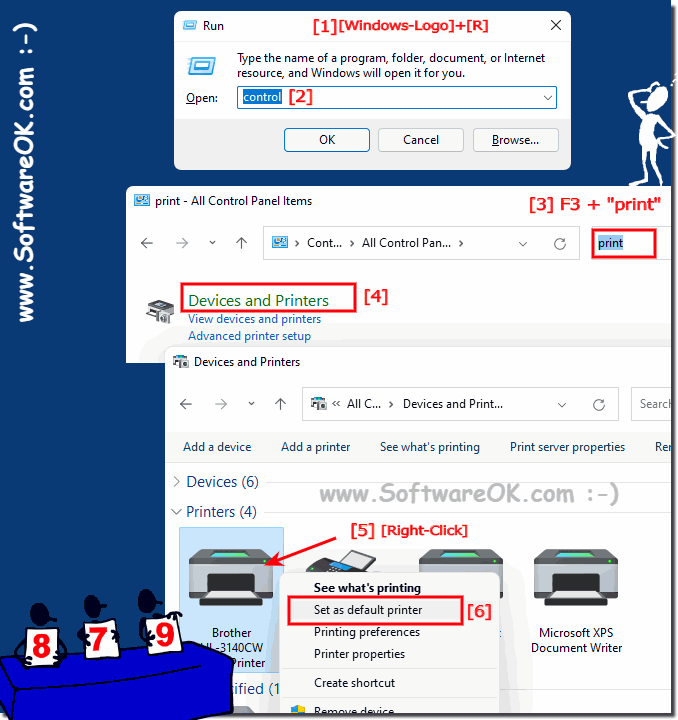 2.) If the Windows 11 computer has printing problems!
It is possible that your printer does not print at all, for a number of reasons. But do not despair of this! The sources of error range from a simple power supply to problems with the network connection between the PC and / or incorrect settings to damaged consumables such as printer cartridges. There are many ways that can cause the printer to go on strike!
FAQ 16: Updated on: 26 September 2021 17:51