If the keyboard layout for switching between keyboard input appears in the Windows 11 taskbar, then two or more keyboard layouts are installed!
This FAQ can also be useful so that you can change your keyboard input language to any language.
1.) Add or remove keyboard layout on Windows!

1. Start the Windows 11 settings as usual ( Windows + i )

2. Via ►  Time and Language  ► scroll on the right side to  Language and Region

3. Scroll to your current language and click on [...]
 
4 . And then simply click on "Language Options"

5. And then "Add Keyboards" 

4. Or optionally also remove [...] the individual keyboard layouts

(... see Image-1 Point 1 to 9)




PS: After you have removed the keyboard layout for more languages ​​under the Windows operating system, you can no longer switch between different languages ​​via the language bar. In order to be able to use the different keyboard layouts, you have to reactivate them!






(Image-1) Windows 11 add or remove keyboard layout!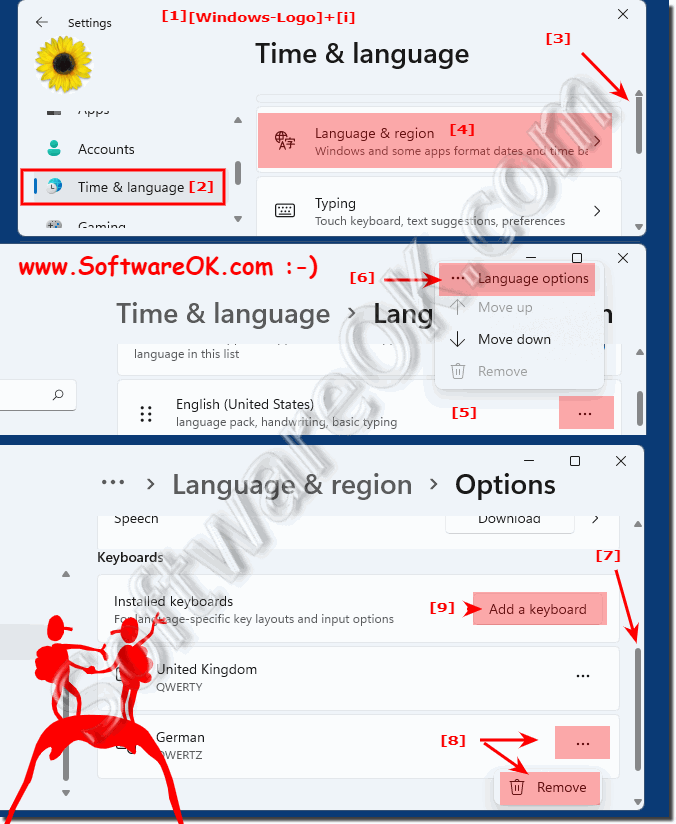 2.) Change the language of your keyboard using a keyboard shortcut!
Changing the language setting / keyboard setting is easy by pressing the left Alt key in combination with the Shift key  . 

You also have another alternative to toggling the language via Windows + space bar . 

Every time you hold down the Windows key and press the space bar again, the keyboard layout jumps to the next one! 

In Windows 11 and 10, this is done quite quickly thanks to the key combination. This only works if another language is installed, or a keyboard layout, then you can switch back and forth between the keyboard input languages.




(Image-2) Windows 11 keyboard shortcuts for system tray keyboard layout!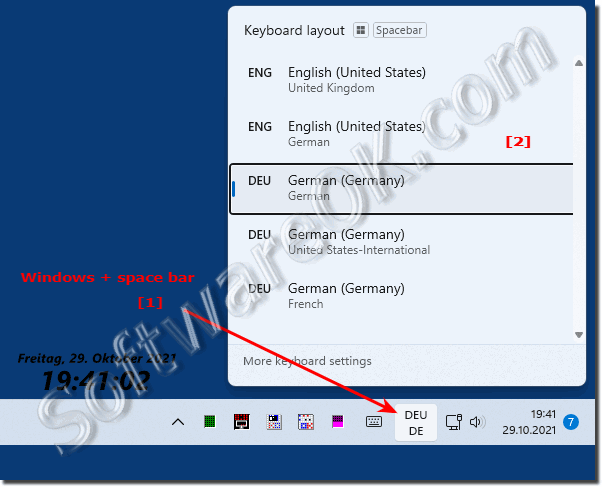 3.) Why do I have several ⌨ keyboard layouts / languages?
As a rule, it does not happen automatically but only when you install an additional language, or if you have set up several keyboard layouts for one language, then you can switch between the keyboard layouts by clicking on the Click the keyboard layout icon, then click the voice keyboard layout you want to use. You can recognize the currently active keyboard layout by the name of the symbol. 

(... see Image-3 Point 1). Here in the example it is the English United Kingdom keyboard layout!





(Image-3) Windows 11 taskbar keyboard layout!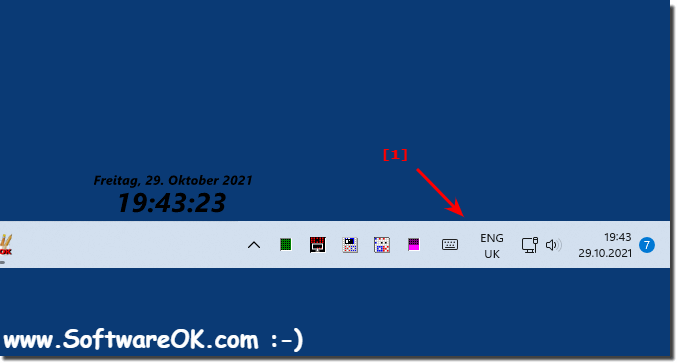 FAQ 183: Updated on: 26 August 2023 08:07