Anyone who has downloaded Windows 11 for free is wondering why is the download so easy or why aren't you being coerced into illegal activities like it used to be?  

MS allows MS Windows 11 OS ISO free download with Media Creation Tool without becoming a hacker. If you have access to a Windows computer, the official method for downloading ISOs for MS Windows OS is through the Media Creation Tool. It is intended to prevent false or manipulated Windows 11 versions from spreading in order to reduce the damage caused by manipulated versions! 


Downloading a Windows 11 disc image (ISO)



1. Please use this link:
►► https://www.microsoft.com/software-download/windows11

2. Scroll to "Download a Windows 11 disk image (ISO)"

3. Click on Download 

4. After the download, open the ►►  Windows Download folder as always

5. Mount (make available) the Windows 11 ISO as a virtual DVD by right-clicking

6. Or simply burn it to a DVD data carrier (via "Show more options") 

( ... see Image-1 point 1 to 5 ) 


Or use: ►►  The mediacreationtoolx64.exe Windows 11 for the installation, with this you can upgrade from Windows 10 & 8.1 directly to Windows 11 and ►► return to Windows 10 within 10 days if you don't like it!  




(Image-1) Windows 11 download easy and free!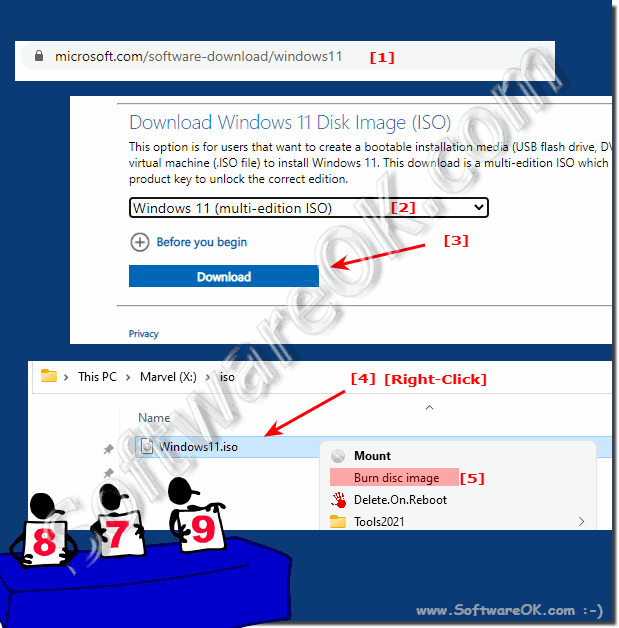 FAQ 216: Updated on: 26 August 2023 07:13