Yes you can simply turn off the dark theme / dark mode in the file explorer Q-Dir on MS Windows 11 and 10 it is possible!



Contents:



1.) Turning off the dark theme for File Explorer! 
1. As always, start  Q-Dir, the Quad Explorer for MS Windows OS

2. Via the main menu, click "Extras" 

3. And simply turn off or on the "Dark Theme" 

(... see Image-1 Point 1 and 2)

If necessary, you can always reactivate the dark mode in File Explorer Q-Dir, repeat the steps described above.



(Image-1) Turn off or on the dark theme in file explorer Q-Dir!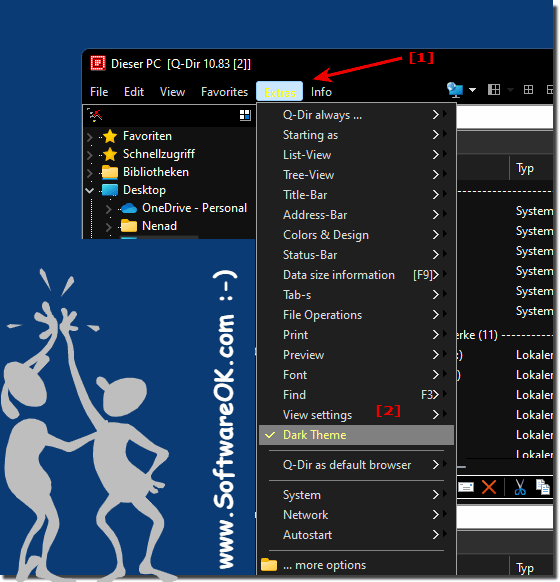 2.) Problem with grouping and color in dark mode!
1. There is currently a color error in the grouping. Please activate the color #000000 for the
Extras list view ► List view ► Color and design ► #000000

TIP: ►►  Complete deactivation of the grouping

2. And in the tree view (directory tree) Use color
Extras ► Directory structure ► Use color 

TIP: ►►  A separate directory tree in Q-Dir for each Explorer view?

   


3.) What else should be considered with the Dark Theme!
At the moment there is nothing else to consider in color and dark mode. 

See also:


 



FAQ 141: Updated on: 7 July 2022 19:40