With Windows 11, you can continue to use PowerShell and the command prompt, the Terminal APP is just an interface designed to simplify it!






Microsoft released the Windows Terminal back in 2020, which brings together all of Windows' command-line programs into one customizable application. Even if you can see Terminal as a kind of standard app for command line operations on Windows 11, it is not a must!





Contents:



1.) The Terminal APP can be removed from the system at any time!
If you prefer to work in the classic way via PowerShell / command prompt, you can simply uninstall the Terminal APP!

1. Shortcut Windows + Q

2. Terminal term

3. Right-click on the terminal symbol

4. And simply uninstall

(... see Image-1 Point 1 to 4) 

PS:
Windows Terminal is an optional free software that runs under Windows 11 and 10 can be installed as an app, it should serve as a visual improvement to the command prompt and PowerShell! You can always find the terminal in the MS Store and access your system environments!


 

(Image-1) Windows 11 PowerShell, Command Prompt or Terminal?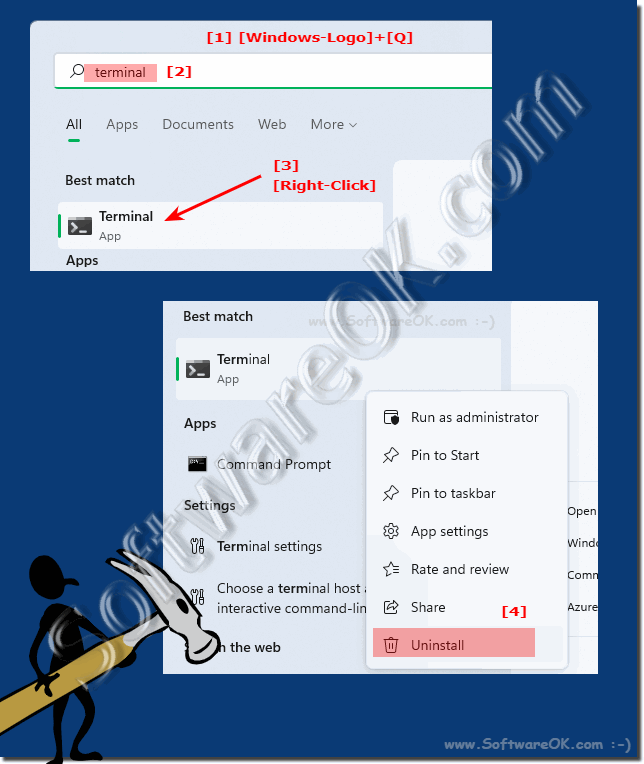 2.) More tips on PowerShell, Command Prompt or Terminal!






PowerShell, Command Prompt, and Terminal are all useful tools that can be used for various tasks. The choice between PowerShell, Command Prompt, and Terminal depends on your specific needs and knowledge. Each of these tools has its own uses and features:




The Command Prompt is a simple text-based command line that can be used for basic tasks such as running programs, copying files, and changing settings.

PowerShell is a powerful command line based on the .NET Framework. It offers a wider range of features than Command Prompt, including the ability to automate complex tasks and manage systems.

Terminal is a modern command line based on the Bash shell. It is compatible with PowerShell and the Command Prompt and offers a number of features that make command lines easier to use.

It is also possible to use PowerShell and Command Prompt in a terminal emulator to combine both environments into a single interface.




In practice, it often makes sense to know and use all three tools. Command Prompt is essential for simple tasks, PowerShell offers a variety of features essential for complex tasks, and Terminal is a good choice for anyone who wants a modern and flexible command line.







FAQ 219: Updated on: 13 October 2023 05:07