This cannot be! The decorative software can also be removed from the MS Surface, the price of the device does not matter!
1.) Removing mouse traces from MS Windows 11, 10, ... OS!
Everyone probably knows how to uninstall programs on Windows the software can be uninstalled at any time!

( ... see Image-1 )



Please always ► 

download and use the latest version of the alternative mouse tracks

! 






(Image-2) I can remove from my MS Surface Pro via uninstall feature!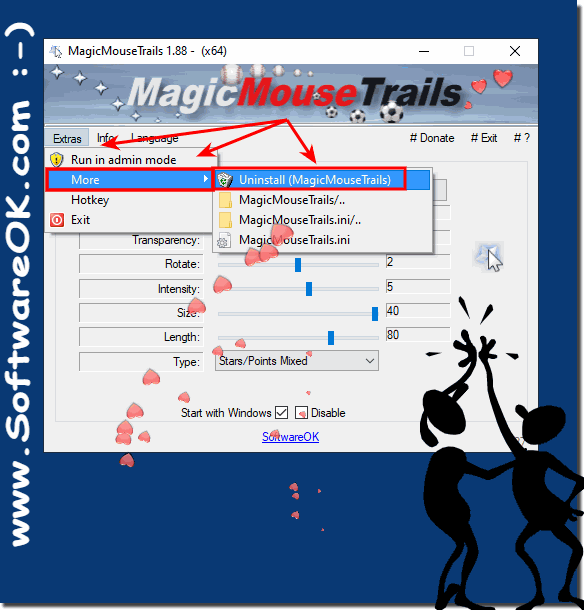 2.) What should I consider when uninstalling the mouse tracks from Windows?
After removing/uninstalling Magic Mouse Trails from Windows Desktop, you will not be able to create beautiful mouse trails effects with different themes and customization.

The mouse tracks are no longer individually customizable and can no longer be set from very subtle mouse tracks to very spectacular ones; the Windows user's mouse track needs are no longer taken into account


If you are using a program that requires the mouse trails, you may encounter problems uninstalling it. In this case, you should consider simply using the option and temporarily disabling mouse trails.

Using an uninstaller will completely remove mouse tracks from your computer. Uninstalling the mouse tracks is usually not a problem. However, you should note that in rare cases there may be problems with other programs.

Advantages of very large mouse tracks:
1. They are easier to see, which can be helpful for people with visual impairments or limited hand motor skills.
2. They can be helpful for troubleshooting because they show which areas of the screen were in use.
3. They can be helpful in documenting user activities.

Disadvantages of very large mouse trails:
1. They can obscure the screen and block the view of other elements.
2. They can be inconvenient when working on multiple screens.



Whether very large mouse tracks make sense or not depends on your individual needs. If you are not sure whether you can do without very large mouse tracks, you can first deactivate them and then test whether you miss them. Very large mouse trails can be helpful for some people, but are not necessarily necessary for everyone. See also:

 ►

Should I use short or equally long mouse tracks on my Windows OS!


 



FAQ 7: Updated on: 13 October 2023 06:48