Changing the default system font on Windows 11 or 10 is not intended but still possible, here are the solutions if you need it!


Contents:




1.) Changing the font using the Registry Editor! 
The intervention is only for experienced users and should only be made if the need for a new system font is really great, these interventions are solutions for advanced users who are familiar with the Windows registry entries.



 
2.) Changing the default font using DesktopOK!

1. Please Start the ► Desktop-OK


(Desktop Okay is a free tool for all Windows users and is provided here to better organize the desktop)

 

2. Then start via the Tools Menu ►► Windows Metric

 

3. Now you can Change all Windows 11 fonts at once, or customize individual fonts for windows, messages, menus or similar by clicking in the list view.

 

4. You can also reset all Windows 11 Font to the default values ​​by simply pressing a button and selecting the option.


(... see Image-1 Point 1 to 5) 

►► Change system fonts, titles, labels, menus, symbols on Windows




(Image-1) Change default system font on windows 11?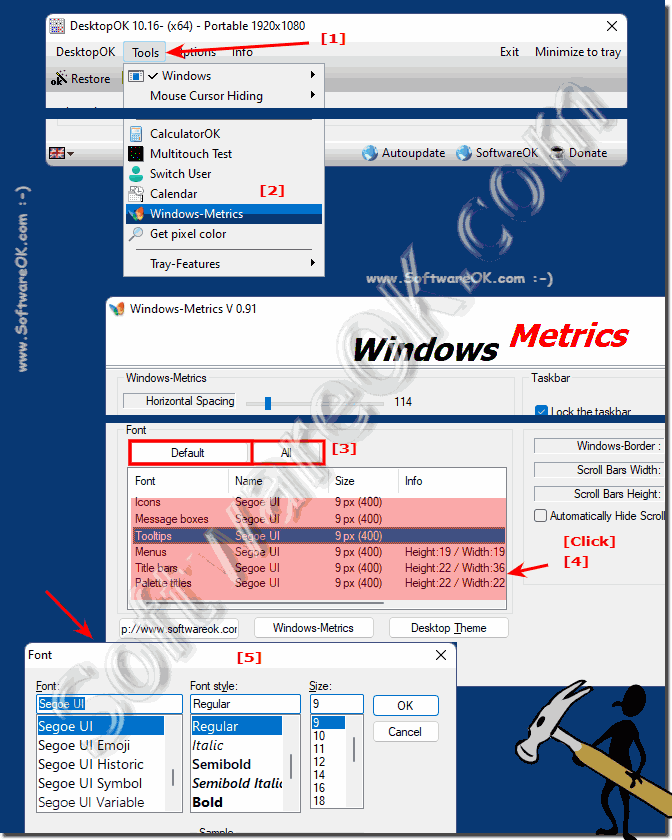 3.) More tips on the standard, font, .. and Co.!
The average Windows 11 user usually changes fonts very rarely, but there are still font enthusiasts who want to have other fonts on the system as well. Ultimately, which font you want to use on Windows 11, or how you proceed, is up to you. Here you will find more information about fonts not only related to Windows 11 but also in general, maybe you will find new information about fonts that might be interesting for you.



 
 







FAQ 233: Updated on: 26 August 2023 07:11