In the course of the pleasant transition to the flat design, Microsoft has made the Windows 11 task manager more attractive with modern design changes! 





 

Content:




1.) The task manager under Windows 11 22H2 in comparison!
It is no longer possible to reuse the old task manager with the look familiar from Windows 10, but it is usually not necessary because the new task manager offers the same functions as the old task manager, only that it looks a little different and the register bars are laid out somewhat differently.

Here is a comparison of the old and the new task manager under Windows 22H2, here you can immediately see that the tab boxes are narrow on the side, at the top it is a dotted menu on the left side, with this you can also call up the identifiers of the tabs , it's really not a big difference, just that it's different and flatter.

( ... see Image-1 )

The biggest change is that the "Autostart" entry in the tab is no longer called Autostart, but "Startup Apps".



(Image-1) Old and new task manager under Windows 11!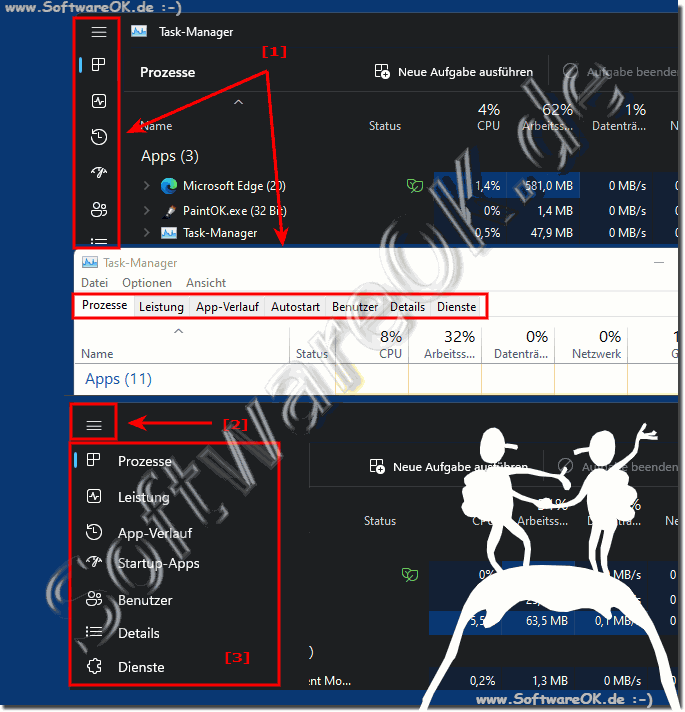 2.) Are there alternatives to the Windows 11 22H2 task manager!
Of course, there are many alternatives to the task manager that are more advanced than the Windows 11 task manager itself, but these are not programs for beginners, but for advanced users who are familiar with the system. One of the best programs for this is the Process Explorer Sysinternals, which also indirectly belongs to Microsoft, or by a developer who works as an independent person under the Microsoft umbrella.

In the Process Explorer you can do forensic work that goes deep into the system and also discovers things such as Trojans or APPs working in the background. Of course, this requires more knowledge of Windows.


For download and information: ►► microsoft.com de-de ... sysinternals ... downloads ... process-explorer




(Image-2) Task manager alternative under Windows 11!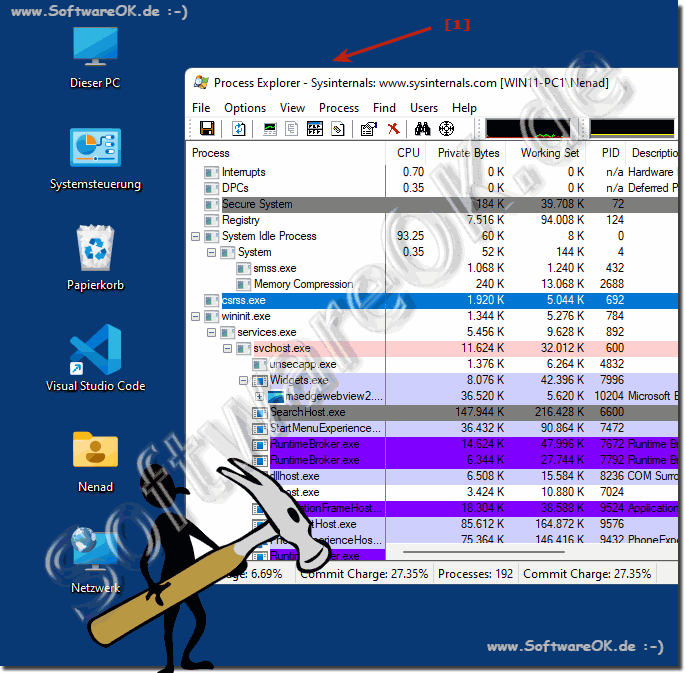 3.) What should I watch out for with the task manager under Windows 11 22H2!
Of course, the Windows 11 task manager is not a program that is now designed for Windows beginners, so caution should be exercised here. The task manager should primarily be used to gain an insight into the system and the load from individual programs. Of course, programs can also be forced closed from here, but this is not always recommended, especially if you are not aware of this, data loss can also occur here, and in the worst case there can also be problems with the system. Here are a few more tips that can help you with such problems and then possibly fix them as well.






FAQ 255: Updated on: 18 November 2022 16:42