For quiet and concerted work under Windows 11, you can create direct access in the start menu so that you are not disturbed by notifications!
Content:
1.) Creating the Windows 11 Quiet Please link!
The command ms-settings:notifications takes you directly to the notification settings, where you can disable the notification directly. You will probably forget the command over time, in this case it is advantageous if you provide a link directly on the desktop or in the start to change the notification settings at any time.

1. Focus on the desktop with the keyboard shortcut Windows + D

2. Now right-click on an empty space on the desktop.

3. Choose New ► Shortcut

4. Use the command:

a. explorer.exe ms-settings:notifications << Notifications button for Windows 11 startup 

b. ms-settings:notifications << Notifications button on the desktop

5. Assign a name of your choice, for example Quiet Please or Please Quiet

6. Now you can optionally, as be described under point 2, pin the button in Windows 11 Start

(... see Image-1, Point 1 to 7)



(Image-1) Turn off notifications and work more quietly under Windows 11!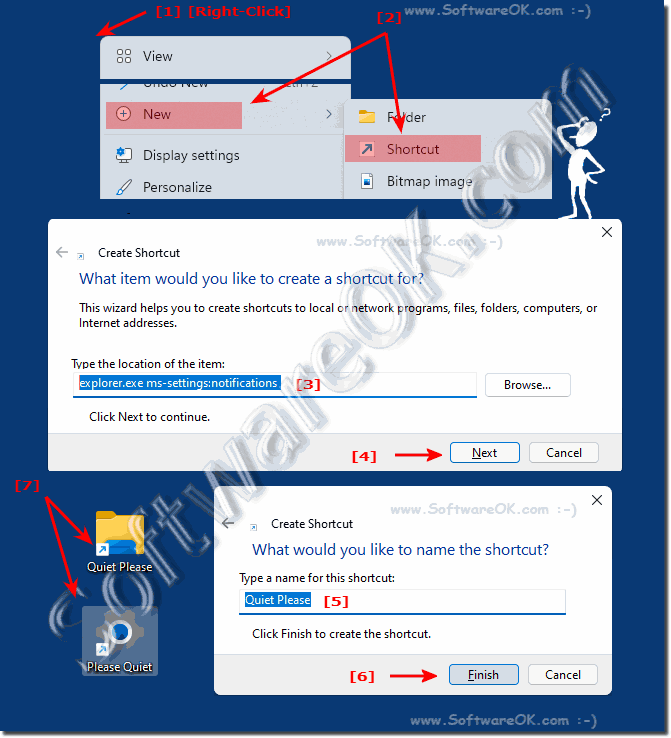 2.) Via Windows 11 start on notifications settings!

With a simple right-click on the link Quiet please make this available in Windows 11 Start, practical for tablets or when working on the touch display.

As described above, it is important to enter the "explorer.exe ms-settings:notifications" command completely and correctly, otherwise it will not be possible to pin it to the Windows 11 start.

(... see Image-2, Point 1 and 2) 




(Image-2) Quiet please to work quietly under Windows 11!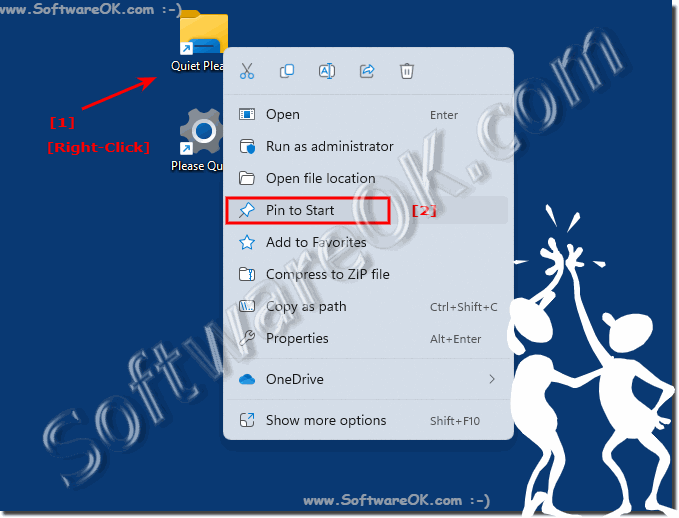 3.) Disabling notifications!
Via the shortcut or Windows 11 Start, or as said before, you can use a command to go directly to the settings!


1. Press the key combination Windows + R key

2. Then simply enter the command ms-settings:notifications 

3. Confirm this with Enter or with the OK key

4. And you are already in the settings for notifications under Windows 11.

5. Here you can initiate the complete deactivation / activation of the notification under Windows 11. Or use the notification assistant to deactivate the notifications on a time-controlled basis, which is quite time-consuming, but a complete short-term deactivation is usually faster.

6. You can also optionally deactivate certain applications individually, but since it is about working quietly, complete deactivation is of course an advantage.

(... see Image-1, Point 1 to 3) 




(Image-3) Work quieter under Windows 11 without notifications!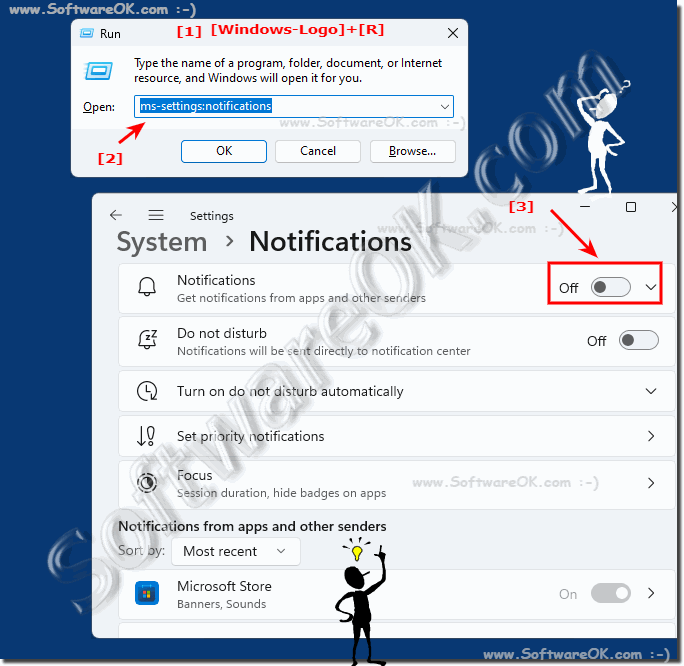 4.) Is it safe not to get Windows 11 notifications?
Of course, you will not receive any notifications via the Windows 11 notification functions, but there will still be error messages from programs, which are necessary. For example "Could not save file" or something similar.

However, some programs have their own notification functions that do not take place via the Windows notification, but are their own solutions, which should of course be set separately. However, it is also the case that many programs that have been newly developed also adhere to the rule of notifications set in Windows 11 or 10.

If necessary, you can point out to the manufacturer of the corresponding software that it adheres to the notification functions in Windows 11 or 10, or if possible, change this in its software solution.



FAQ 261: Updated on: 1 February 2023 19:17