In the event of problems under Windows 11 or 10, it is very practical to check the Bluetooth connection and
the Bluetooth adapter

as well as connected devices!



1.) Checking the Bluetooth adapter status and connected devices!
1. Use the command  ncpa.cpl,  for example via the Run dialog [Windows + R].

2. You can already see the status of the Bluetooth adapter

3. And jump directly to the connected devices

4. Or deactivate / activate the Bluetooth network connection 

5. And quickly create a Bluetooth network connection desktop shortcut 

(... see Image-1 Point 1 to 6)





As you can see with a simple command you can do many things in one go under MS Windows 11 in relation to Bluetooth and also eliminate any problems faster!






(Image-1)  Check Windows 11 Bluetooth connection and adapter!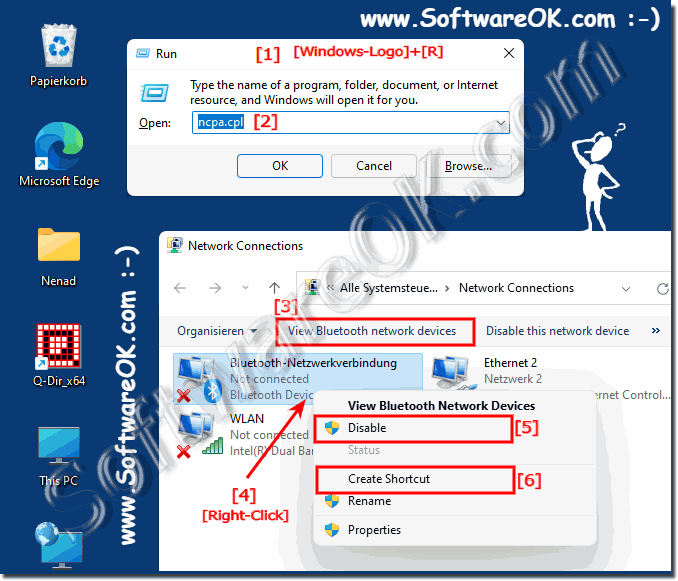 2.) Bluetooth adapter status in the device manager and search for hardware!
1. Start the device manager with key combination: Windows + R and command 

devmgmt.msc

 

2. Now check whether Bluetooth is available 

3. And possibly search for changed hardware 



(Image-2) Windows 11 Bluetooth connection device manager!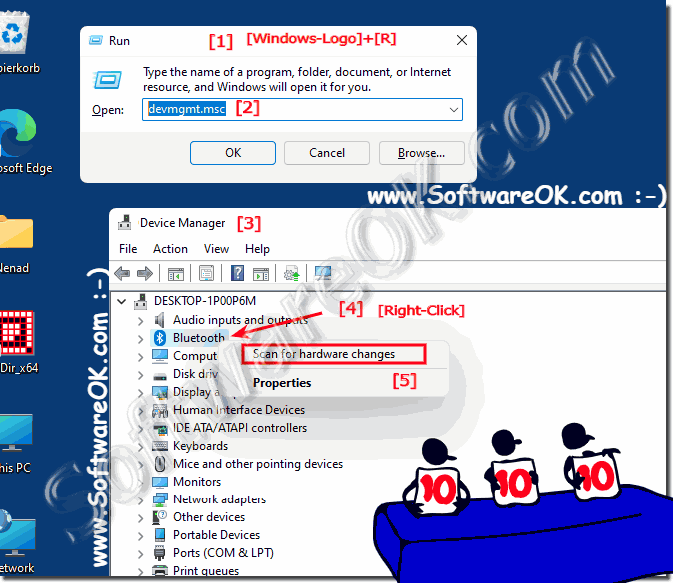 Starting the device manager described here is quite practical if you want to find it in the control panel, simply open the Windows 11 control panel and use F3 in the search to use "device manager". You can also use the term "Bluetooth" to find the Bluetooth options under Windows 11!

3.) What should I watch out for with Bluetooth under Windows 11!
If you don't have a Bluetooth device on your tablet, notebook or PC, you have to buy a
USB Bluetooth stick
, for example  ! Many older laptops have an external switch for switching the Bluetooth transmitter on and off, please check this if necessary! 
FAQ 34: Updated on: 26 August 2023 06:36