VHDX is a virtual hard disk, it is used on MS-Windows, Linux, ... and other OS with the VHDX file extension, which VHDX is as a single file on the hard disk! 


These are mainly needed for the virtual machine, and are used by it like a normal computer uses a normal real hard disk.



VHDX = Virtual Hard Disk (X) Extended = Extended Virtual Hard Disk  







1.) The VHDX file!
The content of an entire hard disk can be virtualized in a VHDX file, which is saved as a single file. The file format is an extension of the VHD format. It offers numerous improvements and functional extensions compared to the VHD format.

With Windows 11 and 10, the VHDX can not only be mounted, with these OS and Windows Server 2022,2019, ... you can directly create a VHDX file, partition, format, convert and treat it like a normal hard disk.

The VHDX format can be created in the Windows computer management and can also be tested and used. 

1. Open Disk Management   << As described here 

2. And just create a VHDX file

(... see Image-1 Point 1 to 6) 



(Image-1) Create a VHDX file!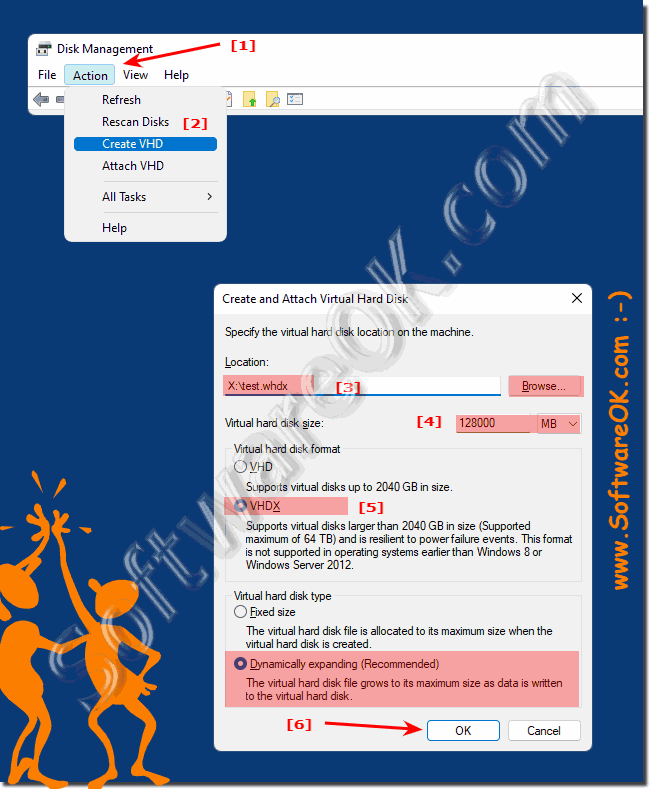 2.) More information about virtualization and Co.!
Physical disk = real disk.
Physical computer = real computer (PC).

More tips:






FAQ 275: Updated on: 28 June 2022 02:01