To find, open or start (run) the Windows-7 and Server 2012 virtual
onscreen keyboard

please use one of these Solutions!



(Picture-2) Windows 7 On-Screen Keyboard




Please press the Hot-Key [Windows+R] to run the Win7 RUN Dialog end enter the command osk (... see Image-2 Arrow-1)



Image-2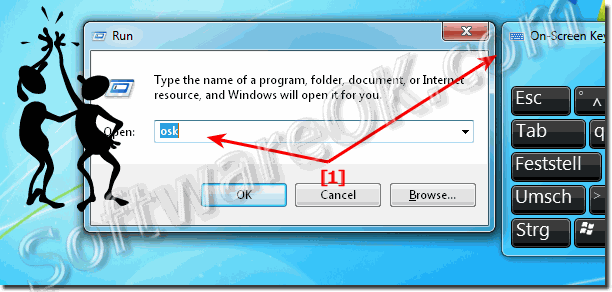 Run the Windows-7 onscreen Keyboard via RUN Dialog!



Please use the Keyboard shortcut [Windows+E] and enter the Address %WINDIR%\system32 in Explorer Address-Bar!




Image-1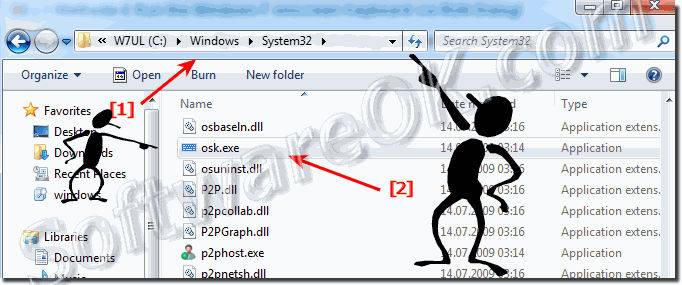 Windows-7 via onscreen Keyboard file location (Find and start)



See the Video:
.... Type without using the keyboard On-Screen-Keyboard 

Helpful information from Microsoft(c):

Instead of relying on the physical keyboard to type and enter data, you can use On-Screen Keyboard. On-Screen Keyboard displays a visual keyboard with all the standard keys. You can select keys using the mouse or another pointing device, or you can use a single key or group of keys to cycle through the keys on the screen.

# Notes:
# If you're using either hovering mode or scanning mode and accidently minimize On-Screen Keyboard, you can restore it by pointing to it in the taskbar (for hovering mode) or by pressing the scan key (for scanning mode).

# If you're using a mouse click to select a key in the Scan through keys mode, the mouse pointer must be located over On-Screen Keyboard.

# The keyboard layout changes in On-Screen Keyboard depending on the language displayed in the active program.



FAQ 14: Updated on: 2 June 2022 19:47